Your Full Guide to Lawn Aeration
Image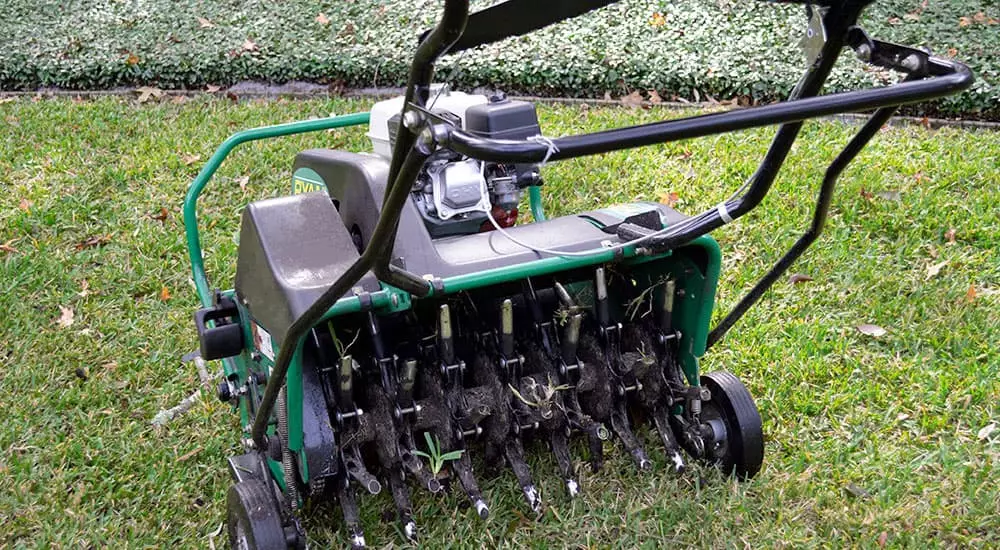 Author: Blair Matthews | January 5, 2022
A great way to set your lawn up for success next season is aeration. The purpose of aeration is to help the roots of your grass grow deeper to produce a stronger and healthier lawn. 
But like many other homeowners, you may have some questions, so we are going to cover topics such as:
What Is Lawn Aeration?
Aeration is the process of making small holes to break up thatch and reduce soil compassion, allowing water, oxygen, and nutrients to more easily reach the roots. This process helps the grass to establish stronger root systems, retain more water, and become less susceptible to lawn diseases and pests. When it comes to aeration, you have two options—liquid aeration and core aeration. 
Core Aeration
Core aeration, also known as mechanical aeration, uses a machine called a lawn aerator to pull out thousands of plugs of soil from your lawn and mechanically open up the soil to allow water and nutrients to penetrate deep into the root system of the turf. 
Though the holes created by the core aerator typically close up on their own and the soil plugs disintegrate before the onset of winter, this method leaves an unsightly lawn for several weeks. Additionally, this method pulls out soil cores that are only about 3 inches deep—meaning that it only addresses a small portion of the soil surface, leaving about 80 percent of the soil undisturbed.
If you are interested in this method of aeration, head to your local hardware store to pick up an aeration machine, which looks like a lawn mower (as pictured above), but instead of blades, it has spikes that penetrate the ground.
Liquid Aeration
Instead of pulling up the soil, liquid aeration uses key bio-stimulants and highly oxidizing material at specific growth stages of turf to break up and loosen the topsoil to encourage a deeper rooting and more oxygen into the topsoil. 
Liquid aeration helps break up thicker soil much more effectively and is easier to apply—sprinkler heads don't have to be flagged, no more heavy equipment being dragged around, and we can fix the root of the problems of our native soil for a healthier lawn.
Liquid soil loosener can also be purchased at a local hardware store. To properly apply the liquid treatment, we encourage you to also purchase a hose-end sprayer.
Core vs Liquid Aeration
While core aeration has a more immediate impact on your soil and the appearance of your lawn, the effects are not very long-lasting. In turn, liquid aeration has less of an immediate impact on your turn, but the effects are longer-lasting, leading to better results over time.
While we generally recommend liquid aeration, if your turf is extremely compacted or has an excessive thatch layer (over 1/2 inch thick), we actually encourage a combination of core and liquid aeration. The holes created through core aeration allow the liquid to more thoroughly penetrate your lawn.
Image
Image
How To Aerate Your Lawn in 5 Easy Steps
It can be overwhelming to get started when you're ready to aerate in the fall. However, the process can be done with a little research and careful preparation. To get you started, we've put together the basic steps for you to follow when you aerate in the fall.
Step 1: Check That Your Lawn Is Ready for Aeration
There are several signs to look for that can clue you in that it's time to aerate your lawn. If you're noticing that your turf is taking a while to absorb water, that's a common sign of soil compaction. Another easy way to gauge the state of your soil is to dig up a small cube of about six inches. How far do the roots extend down? If they're two inches or shorter, it's time to aerate. Also, take a look at the amount of thatch buildup. More than 1.5 inches of thatch is a sign that your lawn needs aeration.
Step 2: Pick The Type of Aeration
There are several different methods for DIY fall lawn aeration. If you are opting for mechanical aeration, handheld spike aerators can be used for a straightforward, if slightly slow, approach. Slicing aerators use blades to slice down into the soil and create access for water and nutrients to reach the roots. The most thorough approach can be found by using a plug aerator or liquid aerator, equipment for both of which can be bought or rented—check your local garden center or hardware store in advance to figure out what's available and what might be the best choice for your lawn.
Step 3: Prepare Your Lawn For Aeration
A day or two before aerating your lawn, ensure that you water it thoroughly with at least one inch of water. Note any areas that might interfere with your aeration equipment, such as hidden irrigation pipes or tree stumps, and mark them if needed so you don't run them over by accident. 
Step 4: Aerate Your Lawn
Then it's time to aerate your lawn! Use your chosen equipment to aerate your lawn completely in one direction before repeating the process perpendicularly to the first lines of aeration for best results.
Step 5: Overseed Your Lawn
After aeration is completed, you want to make sure you do everything you can to boost your lawn's health and prepare it for the coming winter. This is a great time to overseed with a hardy grass seed chosen for your region and climate. A lawn care professional can help you determine which grass types would be best for your landscape. Applying a treatment of your chosen fertilizer will help boost the growth of both your existing grass and the new seeds.
Consider Reaching Out To Professionals
This guide can help you get started aerating your lawn in the fall, but while these DIY treatments can be a great start, they rarely deliver the same results that a professional aeration service would. Not to mention, trained lawn technicians with years of experience know how to aerate your lawn without damaging your turf—something that is all too easy to do by accident.
If you need any help, have questions, want more lawn care tips, or want to learn more about our 5-Star Lawn Care Program—which includes aeration, seeding, and proper fertilization—just give us a call at [phone-number]! Learn what other lawn care services we offer in Greeley.
FAQ About Lawn Aeration
To help you get a better understanding of the aeration process, here are some other common questions we get:
When Should You Aerate Your Lawn—Spring or Fall?
You should aerate your lawn in late summer or early fall, ideally between mid-August and the beginning of October. This allows your grass to recover completely before going dormant in the winter. 
While some people may recommend aerating towards the beginning of the growing season, it's risky to aerate your lawn in the spring or late spring—the heavier rainfall can cause fungal outbreaks that are worsened by aeration, and the growth boost caused by lawn aeration can make it hard to fight weeds.
What Does Lawn Aeration Do?
Lawn aeration can improve the health of your lawn in a number of ways. First, it helps to loosen compacted soil, which allows air, water, and nutrients to reach the roots of your grass. Aeration can also help to reduce thatch accumulation, and it can encourage deeper root growth. All of these benefits can lead to a healthier lawn that is better able to withstand stresses like drought and disease.
How Often Should I Aerate My Lawn?
The frequency with which you aerate your lawn will depend on a few factors, including the type of grass you have, the amount of foot traffic on your lawn, and the type of soil. In general, cool-season grasses should be aerated once a year, while warm-season grasses may only need to be aerated every other year. 
If you have sandy soil, you may be able to get away with aerating less often than lawns with heavier clay soils. This is because sand drains well and doesn't compact as easily as clay. That said, even lawns with sandy soil can benefit from annual aeration. 
If your lawn gets a lot of foot traffic, you may also want to consider aerating more often. This is especially true if you have kids or pets who play on the lawn regularly. The added weight of foot traffic can lead to additional compaction over time.
What Does An Lawn Aerator Do For Your Lawn?
A lawn aerator is a manual tool that perforates the soil with small holes, which allows water, air, and nutrients to penetrate the grass roots more easily. This leads to a stronger, healthier lawn. Aerating also helps to reduce compaction, which can occur over time from foot traffic or heavy lawn equipment.
Why Should I Aerate My Lawn?
There are many benefits to aerating your entire lawn. In addition to promoting a strong, healthy lawn, aeration can also help to improve drainage and reduce puddling. It can also reduce thatch buildup and make it easier for your lawn to resist disease and pests. Overall, aerating your lawn is a great way to improve its health and longevity.
How Do You Know If Your Lawn Needs Aeration?
There are several ways to tell if your lawn could benefit from aeration. If your lawn is compacted, has heavy thatch buildup, or experiences regular puddling or runoff, aeration can help improve drainage and promote healthier grass growth. Aerating also reduces soil compaction, making it easier for roots to access essential nutrients and moisture. If your lawn shows any of these signs, aeration may be a good idea.