Image
The Best Local Lawn Care Company in Fort Collins
What kind of problem are you having? Select all that apply.
Lawn Care in Fort Collins, CO
Maintaining a beautiful yard year-round can be difficult to accomplish on your own. Don't fret over the ever-changing climate in Colorado. Instead, trust the experts at American Turf & Tree Care for quality and personalized service! Professionals in the field since 1982, our family-owned and operated lawn care business is committed to treating you like one of the family, guaranteeing not only a beautiful turf but also service that identifies on-set signs of disease or pest infestations to protect you from harm.
A Superior 5-Star Lawn Care Program
We pride ourselves on providing a 5-star lawn care program to enhance the health and appearance of your yard. Our team of  professionals believes that green, healthy grass shouldn't come at an inflated price. When you call us for a free estimate, we promise complete transparency—you'll know exactly what to expect and how much it will cost. You deserve affordable treatments with 5-star results that can only be found at American Turf & Tree Care. 
When you partner with us, you can expect:
Slow-release fertilizer

.

Weed control at all stages, including pre-emergent and post-emergent.
Lawn disease identification & treatment.
Insect control.

And more!
Image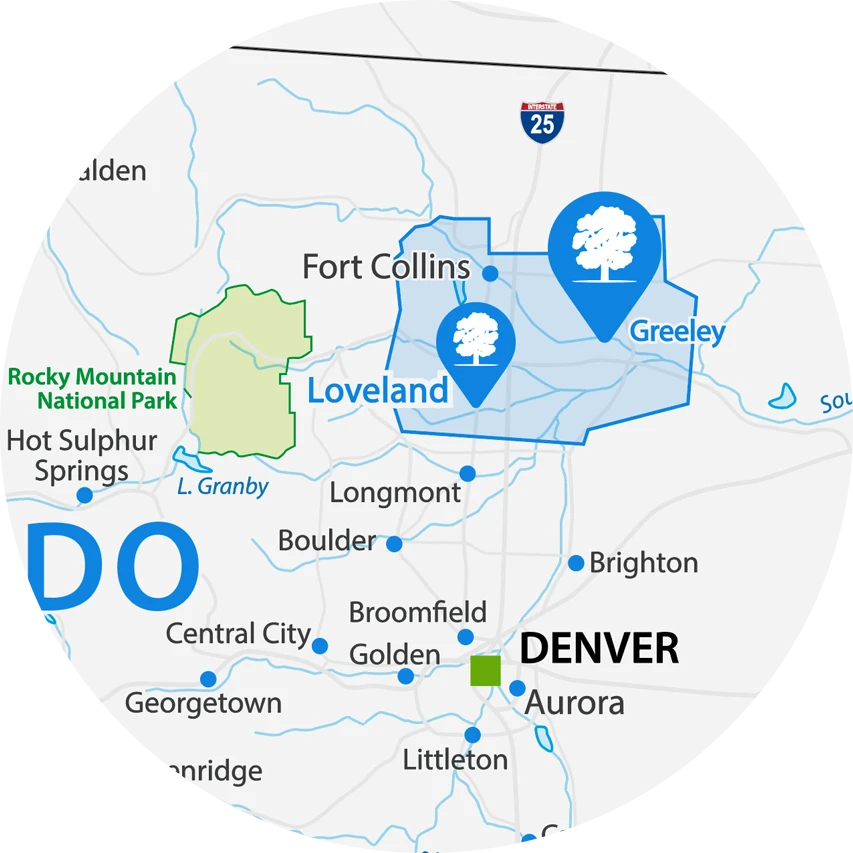 Experts in Organic Nutrition 
Our lawn care program includes 5 treatments over the course of the season from April-October every 4-6 weeks. We understand it's important to understand how products can impact your community's ecosystem. With fewer herbicides and pesticides, our organic nutrition package delivers lush results nourishing the grass with beneficial microbes and disease-fighting fungi. Get the healthy turf you deserve while protecting your community's environment in the process.
Comprehensive Service with Guaranteed Results
Our treatments do not only help you to achieve a healthy, green yard but do so by addressing the root of the problem, working with you to ensure you know the best tips and tricks when it comes to taking care of your turf. We are confident that you will love the results—in fact, we offer a 100% satisfaction guarantee! If any issues arise between services, we will send over a technician to perform a free re-treatment.
Weed Control in Fort Collins
Part of keeping a perfectly manicured lawn is making sure that unsightly weeds don't manage to take over. With 40 years of experience, we are here to provide top quality weed control, applying both pre-emergent and post-emergent treatments to protect you from: 
Thistle

Crabgrass

Bindweed

Foxtail

Goatheads

Dandelions 

And many other weeds!
Safe and Effective Weed Control 
Conventional weed control methods may bring to mind ideas of toxic chemicals that you may worry about causing damage to your lawn. We make sure that our weed treatments only use products that are 100% safe for your loved ones, any pets, and the greater environment. What's more, we guarantee the effectiveness of our products, so if you are unsatisfied with our services, we will do everything we can to make it right!
Liquid Aeration in Fort Collins
One of the most helpful steps in a complete lawn care regime is aeration, which opens up your lawn and allows for greater nutrient absorption. Breaking up the thatch in your lawn gives your roots a better chance to get the air and water that they need to keep your grass looking as green as possible. 
Benefits of Professional Lawn Aeration
Aeration is a fairly intense treatment, so allow our professional teams to handle everything and keep your yard looking its best at all times. Our effective liquid aeration in Fort Collins protects your lawn more than conventional core aeration, and brings with it the following benefits: 
No sprinkler damage.

Brown patch reduction.

Healthier, stronger roots. 

Greener grass. 

The ability to apply fertilizer at the same time. 

And much more!
Our Guarantee
Should your issues persist in between scheduled treatments, simply let us know and we'll re-service your home for no additional cost to you. That's our guarantee to you!
Image