What kind of problem are you having? Select all that apply.
Lawn Care in Severance
We've been providing lawn care services since 1982, so we've seen it all. Whether your grass is thin, not growing, patchy, brown, or just generally dull, you can rely on us to diagnose the issue as well as fix it, giving your yard the boost it's been waiting for. With our customized lawn care program, you'll be enjoying lush, green grass in no time!
Comprehensive Lawn Care for Effective Results
There are a lot of factors that can impact your grass, and our comprehensive lawn care in Severance is here to help with all of them. Our local experts know how to handle everything from nutrient deficiencies, to insect activity, disease, and everything in between. To keep it looking its best all season long, we'll treat your yard every 4-6 weeks from April until October. 
When you partner with us for lawn care, you can also expect:
Slow-release fertilizer that feeds your grass, making it lush and strong.
Pre-emergent weed control to prevent crabgrass, spurge, and other unsightly weeds.
Post-emergent herbicides to eliminate dandelions, thistle, and bindweed.
Organic soil conditioner to improve soil quality and allow the roots to grow.
Treatments to increase your grass' drought and disease tolerance.
Image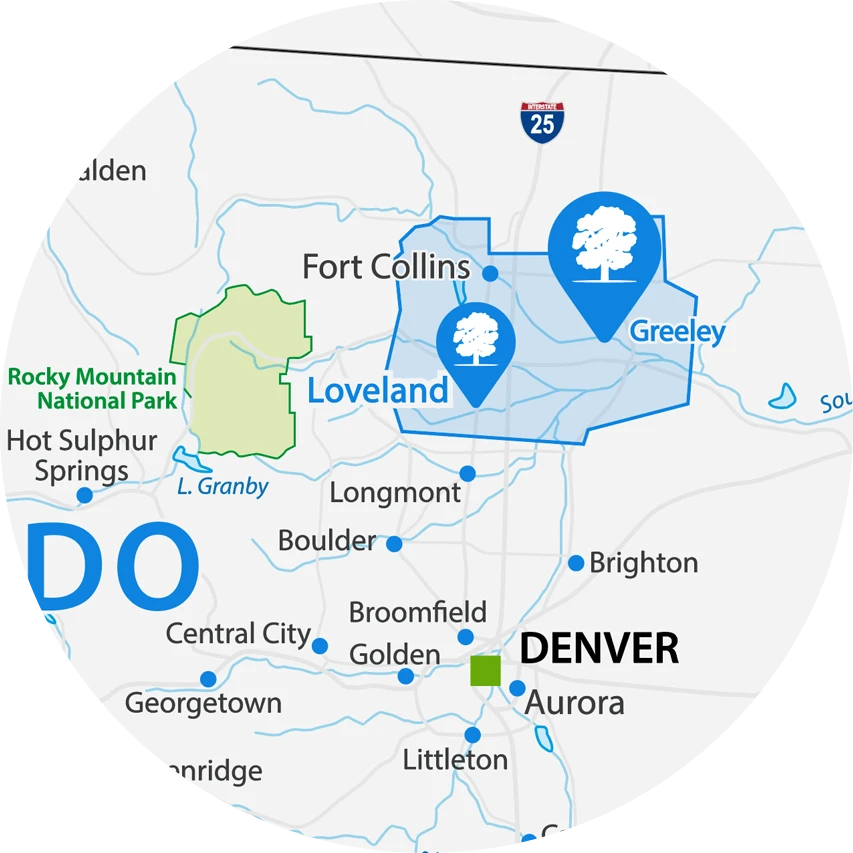 Organic Products for Your Peace of Mind
With our lawn care services, you can have the best of both worlds: treatments that are organic and environmentally friendly but proven to be effective. We've carefully put together a treatment option that uses fewer herbicides and pesticides, instead opting to use beneficial microbes and disease-fighting fungi. 
The benefits of our organic lawn services are:
Enhanced root growth that leads to reduced maintenance. Stronger roots mean they can use moisture and nutrients more effectively, leading to less watering and mowing.
Natural defense against drought, extreme temperatures, and damage from frost.
Reduced environmental impact thanks to organic alternatives, like humic acid and fulvic acid. Say goodbye to harsh chemicals!
A Beautiful Lawn—Guaranteed!
With American Turf & Tree Care from Greeley, CO, you'll receive excellent customer service every step of the way because we care about your yard as much as you do. To make things as hassle-free as possible, we back our lawn care in Severance with a 100% satisfaction guarantee. If you experience any issues between regular visits, all you have to do is give us a call! One of our technicians will respond as soon as possible, at no additional charge to you.
Tree Care in Severance
When your trees and shrubs are looking unhealthy, it can be difficult to determine what the problem is and even harder to treat, causing your beautiful ornamentals to die. To keep your plants looking their best, trust our services. Whether the culprit is insect damage, disease, or harsh weather conditions, our tree experts have a custom solution for you.
Our tree care services in Severance include:
Treatment for tree diseases and pests
Dormant oil applications
Anti-desiccant spray
Seasonal tree fertilization
Specialized winter tree care
Fruit sprays
And more!
Prevent Unsightly Winter Tree Damage
To stay healthy and happy, trees need plenty of water, which can be difficult in the cold, dry winters of Colorado. Our tree experts not only repair winter damage but can also implement treatments to avoid winter damage in the first place! Here's how it works:
We'll visit once per month to thoroughly water, spraying up to 1,500 gallons of water if needed.
Once trees are dormant, we'll apply a waxy anti-desiccant spray to the leaves, keeping moisture locked in all winter long.
You'll also receive a 100% satisfaction guarantee on our Severance tree care services, ensuring your trees stay healthy and vibrant.
Liquid Aeration in Severance
Over the summer months, your turf can take a real beating from the sun, over- or under-watering, fertilizing, and mowing. At American Turf & Tree Care, we can help give your turf a break. We provide liquid aeration, which ensures that your lawn will grow healthier, greener grass for seasons to come!
Stronger, Greener Grass Long-Term
Our liquid aeration in Severance consists of puncturing small holes in your turf, then applying an EPA-approved liquid treatment to help cultivate healthy growth. Liquid aeration allows air, water, and necessary nutrients to enter into the soil and go much deeper than before, so your grass grows back even stronger. Our liquid aeration treatments allow your grass to thrive throughout the year and endure the harsh winter season, so it can bounce back and grow well during the spring!
When you partner with us for liquid aeration, you will notice:
The decrease or elimination of bald spots across your turf.
Stronger root development to help your grass endure every season. 
No more sprinkler damage.
A clean, mess-free turf, as opposed to core aeration. 
The decrease in insects and disease across your yard.
Greener, healthier grass that lasts long-term!
Weed Control in Severance
No matter how lush and thick your turf is, your landscape can easily become an eyesore when weeds start popping up. If you're tired of watching weeds take over the yard you've worked so hard to cultivate, it's time to call in the experts. Our weed control service uses only the best family-and-pet-friendly products, and our team of local experts has over 40 years of professional experience fighting all types of weeds in Colorado. Even better, our services are guaranteed, so you can rest easy knowing that at least 85-95% of weeds will be gone when you work with us—or we'll retreat! 
Comprehensive Weed Control You Can Trust
To ensure the best results, we utilize a combination of pre-emergent and post-emergent treatments to keep weeds out of your yard year-round, so you can simply kick back and enjoy your beautiful landscape. 
Our team of talented lawn technicians can handle any of the following with ease:
Grassy weeds, such as crabgrass, goosegrass, and yellow foxtail
Broadleaf weeds, including thistles, dandelions, wild violets, and clovers
Warm-season weeds
Cool-season weeds
Annual weeds
Perennial weeds
Our Guarantee
Should your issues persist in between scheduled treatments, simply let us know and we'll re-service your home for no additional cost to you. That's our guarantee to you!
Image