What kind of problem are you having? Select all that apply.
Lawn Care in Johnstown
Having a beautiful, properly-taken-care-of yard is any homeowner's dream. After all, it is the first aspect of your home someone sees! Our lawn care technicians know exactly what it takes to achieve a healthy, happy yard in Colorado's variable climate.
In fact, American Turf & Tree Care has been the most trusted name for lawn care in Northern Colorado for over 40 years! We're guaranteed to identify why your grass isn't growing, what diseases plague your yard, and to repair all damage in order to bring your turf back to health!
Our 5-Star Lawn Care Program
We're straightforward when it comes to our lawn care services—that way, when you call for your free estimate, you know exactly what you're getting and how much it's going to cost. We believe in upfront, affordable pricing, and 5-star results. Our technicians do this by providing year-round treatments, including:
Slow-release fertilizer
Blanket and spot spray insect control
Pre-emergent and post-emergent weed control
Iron for vibrant color
And much more!
Outside of Johnstown, we also offer our exception lawn care program in Loveland, Severance, Timnath, and other communities around Greeley.
Image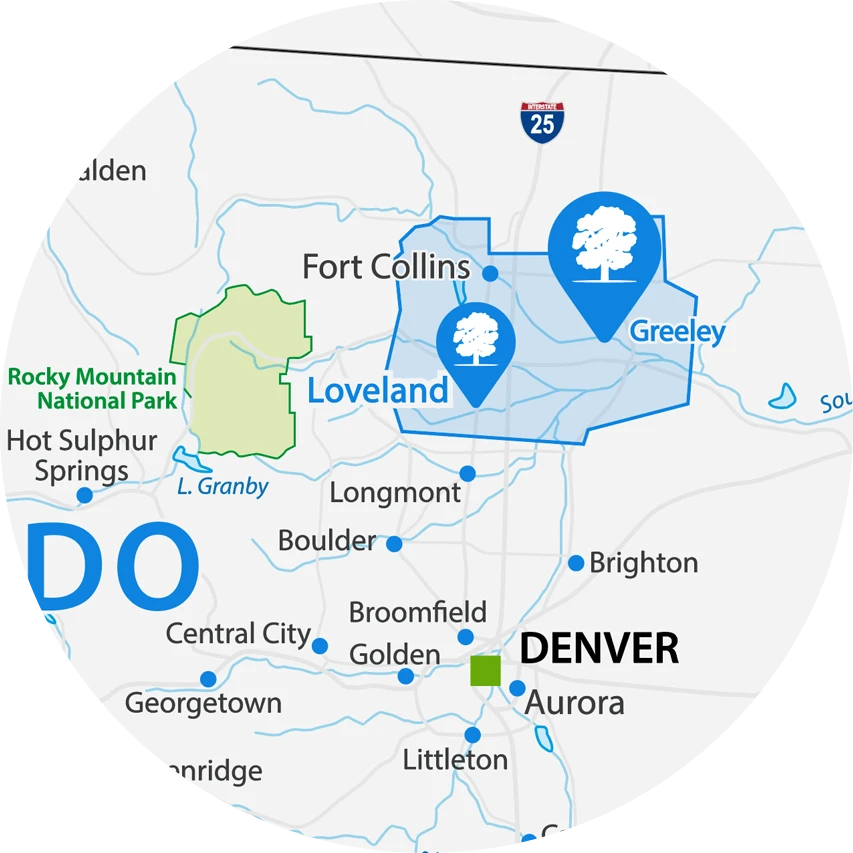 Organic Treatments for a Healthier Environment 
Johnstown is a gorgeous place to live—and we want to keep it that way! That's why American Turf & Tree Care is proud to offer our Organic Nutrition option. With fewer herbicides and pesticides, our organic lawn care program is designed to pack a punch for the health of your grass with little-to-no impact on the environment. We use beneficial microbes and disease-fighting fungi instead of synthetic fertilizers or chemical treatments, so you can rest easy knowing you're getting a healthy turf without causing damage to the health of our community. 
The Best Lawn Care Service—Guaranteed!
Getting a great lawn shouldn't be a hassle. Whether you are setting up an appointment with our friendly office staff or communicating with our highly trained and skilled technicians, you can rely on our unbeatable customer service, as well as our 100% guarantee. If you're unhappy with your lawn after an appointment, we will re-service at no additional cost to you! With our team of experts on your side, your grass is guaranteed to become the envy of the neighborhood. Get the yard you've always dreamed of—without lifting a finger. 
Liquid Aeration in Johnstown
The summer can take a toll on your lawn. From foot traffic to high heat to mowing and watering, your turf might begin to get worn down as the year progresses—your soil gets compacted and the turf becomes lackluster. We offer liquid aeration that can help perk up your lawn from the inside out. As a family-owned business with over 40 years of experience providing aeration services, we'll help you get the lush, thriving grass you deserve.
Strengthen Your Lawn's Foundation
When you treat your turf to liquid aeration in the fall, you'll be fortifying your turf for the winter and cultivating beautiful grass for the spring. Liquid aeration allows important nutrients, water, and air to penetrate down to your grass' roots, strengthening your grass and making it lush and vibrant, providing a number of benefits, including:
Stronger roots
No sprinkler damage or heavy equipment
A better alternative to core aeration 
No heavy equipment
And more!
Weed Control in Johnstown
Our weed control services get to the root of the problem by killing off your weeds fast. We use only 100% safe products so your family, pets, and the environment won't be harmed while we work. Our program will destroy weeds and protect them from coming back in areas such as:
Grass
Shrubs
Flower beds
Trees
In mulch and dirt
And more!
Quick & Effective Treatments
There's a reason why our customers have been so happy with our vegetation and weed control services is simple—they work well and fast! Our weed control treatment takes place at the end of winter, preventing weeds from popping up in your turf or beds throughout the entire growing season. We rely on granular pre-emergent formulas to prevent weed germination and regrowth, and our team stays up-to-date on the latest methods and products to keep your grass fortified against weeds.
Our formulas protect your landscape against:
Grassy weeds, like crabgrass, goosegrass, and yellow foxtail
Broadleaf weeds, like thistle, dandelions, and clover
Warm-season and cold-season weeds
Annual and perennial weeds
Our Guarantee
Should your issues persist in between scheduled treatments, simply let us know and we'll re-service your home for no additional cost to you. That's our guarantee to you!
Image