What kind of problem are you having? Select all that apply.
Lawn Care in Berthoud
Introducing American Turf and Tree Care, your local lawn care company in Berthoud. With over 41 of experience, we are dedicated to providing top-notch services that will leave you with a yard you love. 
Here are some of the services we provide:
Lawn Fertilization
Weed Control
Liquid Aeration
At American Turf and Tree Care, we are passionate about delivering exceptional lawn care services that exceed your expectations. We go above and beyond to ensure 100% customer satisfaction, backed by our guarantee. Our team is dedicated to nurturing your lawn into a masterpiece that will make your neighbors green with envy. Don't settle for anything less than perfection. Choose American Turf and Tree Care and experience the difference. 
Image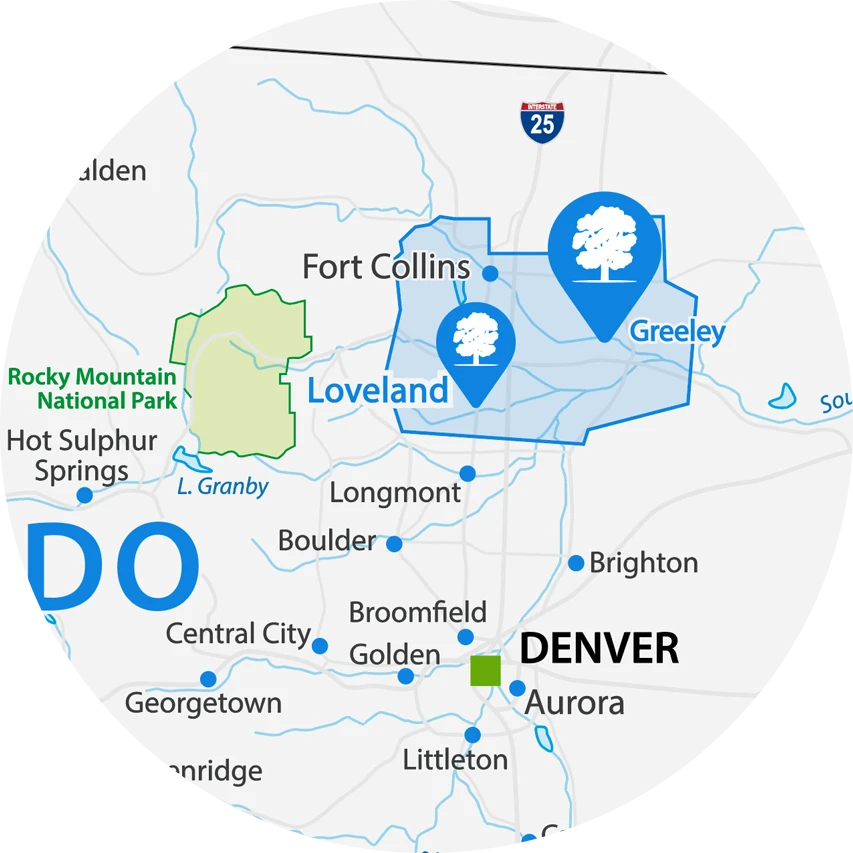 Get the Beautiful Lawn You Deserve
Discover the secret to a year-round beautiful and healthy lawn  with American Turf and Tree Care. Our expert technicians have mastered the precise blend of nutrients, fertilizers, and control methods to keep your lawn thriving. Our all-encompassing lawn care program offers 5 treatments every 4-6 weeks from April to October, including:
Complete balanced rate lawn fertilizer
Pre-emergent weed control for crabgrass, spurge, and other grassy weeds
Post-emergent weed control herbicides for dandelions, thistle, bindweed, and more
Organic soil conditioner for enhanced root growth
Drought tolerance treatments
Disease tolerance treatment
Our Services are 100% Guaranteed!
Rest assured, our 100% satisfaction guarantee ensures you'll love the results. Our friendly office staff and knowledgeable technicians are dedicated to providing exceptional customer service. If any issues arise between visits, our highly qualified technicians will promptly address them at no additional cost.
Weed Control in Berthoud
Tired of battling persistent weeds such as crabgrass, dandelions, clovers, and others? American Turf and Tree Care is your solution for year-round weed control with family-friendly treatments. Our expert lawn technicians provide:
Family-Friendly Herbicides: Our pre-and-post emergent weed treatments are safe for your family and pets.
Year-Round Protection: We apply pre-emergent weed control in January and February to prevent weeds from germinating. In case of late-season weeds, we offer post-emergent weed control.
Repeated Treatments: For the toughest weeds like thistle, bindweed, and goatheads, our team offers repeated treatments to ensure complete eradication.
Liquid Aeration in Berthoud
Revitalize your lawn with our expert liquid aeration services in Berthoud, proudly serving the community since 1982. When you choose American Turf and Tree Care, you can expect:
Comprehensive Inspection: Our team conducts a thorough property inspection to understand your lawn's unique needs.
Liquid Aeration: We offer liquid aeration, a cleaner and more effective solution that doesn't leave unsightly soil plugs.
Stronger Grass: Experience greater rooting, making your grass more resilient to drought, stress, diseases, and pests.
One-Time Treatments: Rest easy knowing you won't pay for any unnecessary services. We focus on delivering what your lawn truly needs.
Choose liquid aeration for an easier, more effective solution that offers winter fertilization, no sprinkler damage, no soil plugs, and treatment even in hard-to-reach areas. Experience the long-term benefits of aeration with American Turf and Tree Care! 
Our Guarantee
Should your issues persist in between scheduled treatments, simply let us know and we'll re-service your home for no additional cost to you. That's our guarantee to you!
Image