What kind of problem are you having? Select all that apply.
Lawn Care in Evans
Looking for local lawn care services in Evans, CO? Look no further than American Turf and Tree Care, with over 41 years of experience in providing top-notch lawn service. Our commitment to healthy results for your lawn means we offer a variety of services, including:
Lawn care: From mowing to edging, we'll keep your lawn looking its best.
Lawn fertilization: Our organic treatments will promote strong, healthy growth.
Weed control: Say goodbye to pesky weeds with our effective weed control solutions.
Liquid aeration: We'll improve soil health and promote deeper root growth.
Lawn disease control: Our team will identify and treat any lawn diseases to keep your lawn thriving.
And with our 100% satisfaction guarantee, you can trust that we'll take care of your lawn as if it were our own. Don't settle for a lackluster lawn—contact us today to learn more about our services and how we can help you achieve the lawn you've always wanted.
Image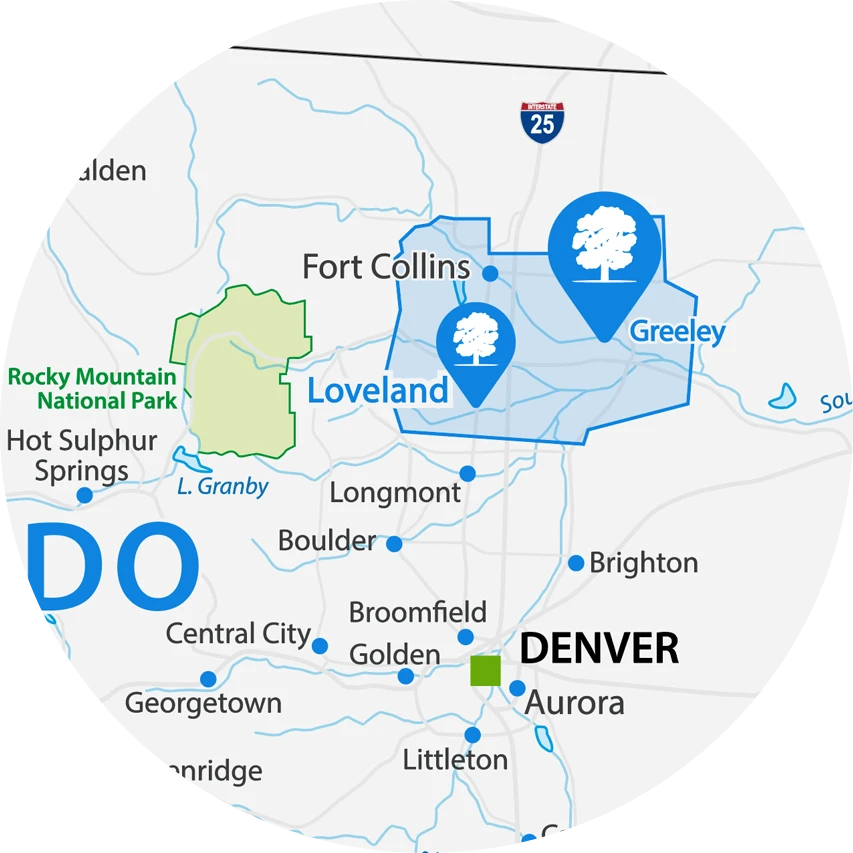 Weed Control in Evans
Say goodbye to pesky weeds in your yard with American Turf and Tree Care's expert weed control in Evans. Our family-friendly herbicides prevent weeds from germinating and offer year-round protection to keep your lawn looking its best. We offer:
Vegetation management for your entire yard, including gardens, flowerbeds, and even cracks in your driveway.
Repeated treatments to get rid of the toughest weeds like thistles, bindweed, and goatheads.
Lawn spraying for both pre-and-post emergent weed control.
Protection against broadleaf, grassy, annual, and perennial weeds
Don't let weeds overtake your yard! Contact us today for the best weed control in Evans, and enjoy guaranteed products and customer satisfaction.
Liquid Aeration in Evans
Transform your lawn from ordinary to extraordinary with our liquid lawn aeration service in Evans! With over 41 years of experience, we offer a full range of services to ensure your lawn stays lush, green, and healthy. When you choose our aeration services, you can expect:
Comprehensive inspection—We start by performing a thorough inspection of your property to understand your turf's specific needs.
Liquid aeration—Our liquid aeration treatment helps to reduce soil compaction, allowing for greater rooting, deeper nutrient release, and improved air and water exchange.
Stronger grass—With improved root growth and greater resilience to stress, our service will help keep your grass looking healthy and beautiful.
One-time treatments—We don't believe in charging for unnecessary services, so we'll only treat your lawn when it's necessary and will deliver results.
Excellent Customer Service
At American Turf and Tree Care, we are dedicated to providing the best lawn care services in Evans that are 100% guaranteed. Our professional team takes pride in delivering healthy results for your landscape through excellent customer service—all with no binding contracts. If you're unhappy with the results of our services, we'll return and re-treat at no additional cost. Let us help you create your outdoor oasis, so you can enjoy your dream lawn stress-free.
Our Guarantee
Should your issues persist in between scheduled treatments, simply let us know and we'll re-service your home for no additional cost to you. That's our guarantee to you!
Image