Image
The Best Local Tree Care Company in Loveland
What kind of problem are you having? Select all that apply.
Tree and Shrub Care
Tree Care in Loveland
Transform your landscape with the expert care of a certified arborist. At American Turf and Tree Care, we've been providing exceptional tree and shrub care for 41+ years. Here are just a few of the services we offer:
Seasonal fertilization to keep your ornamentals healthy and vibrant
Injections to protect against disease and pests
Fruit sprays to ensure a bountiful harvest
Tree disease treatments to address issues before they become severe
Protection from invasive pests like the Emerald Ash Borer
Shrub care to keep your ornamental plants looking their best
And more!
Our team of experienced specialists will work tirelessly to keep your landscape looking its best. And with our 100% guarantee, you can trust that we stand behind our work.
Image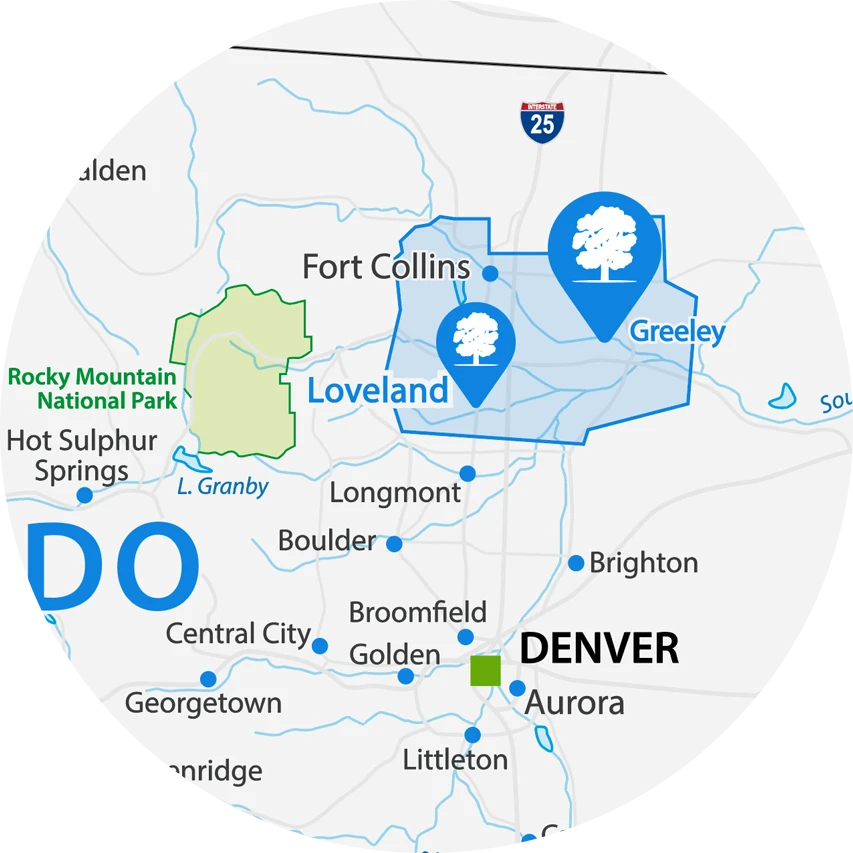 Emerald Ash Borer Treatment in Loveland
The tiny Emerald Ash Borer (EAB) is dreaded by homeowners around the country. Originally from Asia, these jewel-tone green insects were first detected in the U.S. in the early 2000s. 
Their color may be admirable, but their reputation is fierce. EABs can destroy a forest in as little as 10 years, thanks to their larvaes' hunger for tree tissue underneath the bark. If you're noticing signs of EAB damage on your trees or even in your neighborhood, it's time to call professionals before it is too late.
Concerned your trees are at risk? Check out our comprehensive guide to Emerald Ash Borers.
Long-Lasting EAB Protection
At American Tree and Turf Care, we utilize a long-lasting maximum coverage treatment to save your trees. Our Emerald Ash Borer service includes:
A free in-depth inspection

by our highly-qualified team.

A trunk injection

that kills and repels EABs.

Defense that lasts

for two whole growing seasons.

A remarkable success rate

proven in national trials.
Tree Care in Loveland
Transform your ornamentals into stunning works of nature with our premier tree care service in Loveland. Our team of expert arborists is here to provide you with comprehensive inspections and customized treatments for healthy, thriving trees all year-round.
Our exceptional service includes:
Seasonal tree fertilization to promote optimal growth
Winter watering to ensure they are properly hydrated and protected from dehydration
Injections that strengthen your trees against diseases and invasive Emerald Ash Borers
Eco-friendly fruit sprays that protect your trees and ensure fruit remains safe for consumption
Expert tree disease treatment to keep them healthy and free from irreparable damage
Personalized care to treat iron chlorosis and other conditions caused by Northern Colorado's alkaline soil
Protection from harsh conditions that can wear and tear your ornamentals
Contact us today for a free quote and experience the satisfaction of our commitment to going above and beyond with each service.
Shrub Care in Loveland
Discover the secrets to a healthy and stunning landscape with our shrub care service in Loveland. Our experienced shrub arborists have over 41 years of local knowledge to diagnose and treat boxwood and fire blight, powdery mildew, and other shrub diseases.
What sets us apart from the rest?
Comprehensive inspections by a certified arborist
Seasonal shrub fertilization for year-round health and beauty
Winter shrub care to keep your evergreens flourishing
Eco-friendly treatments for a sustainable solution
Free quote for your personalized shrubbery care plan
Trust us to address any pH imbalances, iron deficiencies, and root rots in your soil for a strong foundation. Don't settle for mediocre shrub care. Embrace the beauty of flourishing shrubs with American Turf and Tree Care. Contact us today for your free quote. 
Our Guarantee
Should your issues persist in between scheduled treatments, simply let us know and we'll re-service your home for no additional cost to you. That's our guarantee to you!
Image