What kind of problem are you having? Select all that apply.
Tree Care in Loveland
The seasonal weather conditions in Colorado bring a host of issues, including insect infestations, diseases, and general wear and tear—that's where our team of professionals comes in with our tree service! After a thorough inspection of your yard, our team will use a combination of advanced treatment methods and preventative services to implement a customized program that addresses the needs of your specific ornamentals.
Our tree service in Loveland targets these threats with services such as:
Pest protection to combat damaging insects
Disease and fungi protection
Anti desiccant spray
Seasonal fertilization solutions
Dormant oil sprays
Image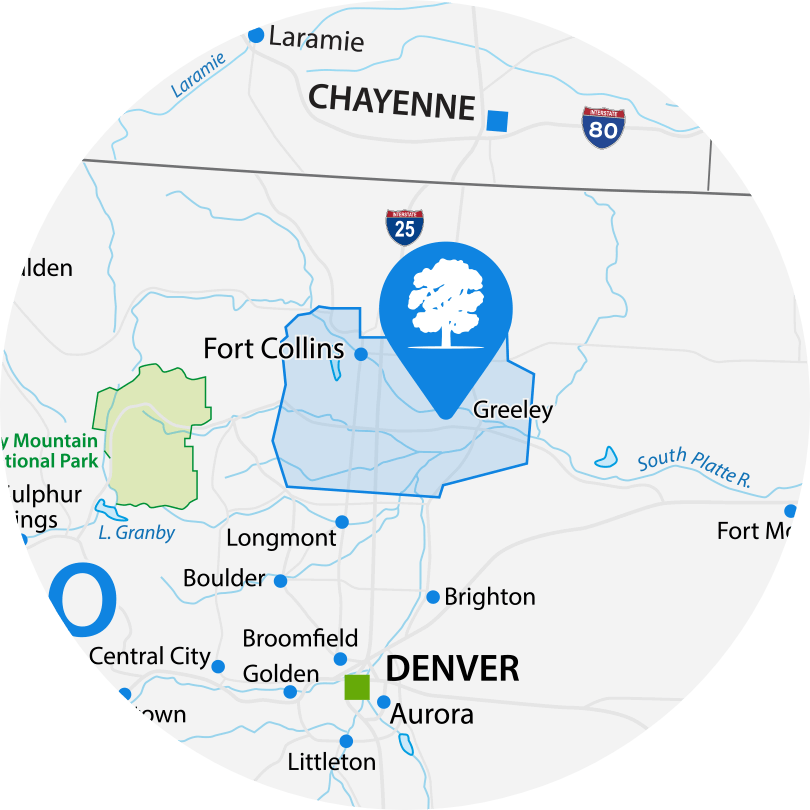 Emerald Ash Borer Treatment in Loveland
The tiny Emerald Ash Borer (EAB) is dreaded by homeowners around the country. Originally from Asia, these jewel-tone green insects were first detected in the U.S. in the early 2000s. 
Their color may be admirable, but their reputation is fierce. EABs can destroy a forest in as little as 10 years, thanks to their larvaes' hunger for tree tissue underneath the bark. If you're noticing signs of EAB damage on your trees or even in your neighborhood, it's time to call professionals before it is too late.
Concerned your trees are at risk? Check out our comprehensive guide to Emerald Ash Borers.
Long-Lasting EAB Protection
At American Tree and Turf Care, we utilize a long-lasting maximum coverage treatment to save your trees. Our Emerald Ash Borer service includes:
A free in-depth inspection

by our highly-qualified team.

A trunk injection

that kills and repels EABs.

Defense that lasts

for two whole growing seasons.

A remarkable success rate

proven in national trials.
Don't wait to protect your beloved ash trees from destructive EABs. Contact American Turf & Tree Care to get Emerald Ash Borers under control so that your yard is preserved for years to come.
Our Guarantee
Should your issues persist in between scheduled treatments, simply let us know and we'll re-service your home for no additional cost to you. That's our guarantee to you!
Image