What kind of problem are you having? Select all that apply.
Lawn Care in Eaton, CO
Is your lawn looking lackluster? Are there bald or yellow patches? Is your grass not growing? Not for long! Here at American Turf and Tree Care, we've been providing professional lawn care and creating beautiful landscapes since 1982 with our team of expert lawn technicians and specialists. Whether you need fertilization, weed treatments, liquid aeration, or mosquito control, we've got you covered. 
Year-Round Care for the Best Results
When you partner with us for lawn care in Eaton, you can expect a series of recurring treatments every 4-6 weeks from April through October, providing healthy results for your landscape year-round. Our program includes:
A slow-release fertilizer.
Pre-emergent weed control to protect from crabgrass, dandelions, thistles, and other nuisance plants.
Organic soil conditioner.
Treatments for drought, disease, pests, and more.
A yard that you can be proud of!
A Beautiful Lawn With Guaranteed Service
When you partner with our team of lawn technicians from Greeley, you can rest easy knowing that not only are we a team of Colorado's best local experts, but we offer you our satisfaction guarantee with every package. If you experience any issues between treatments, just give us a call—we'll come back and re-treat at no additional cost to you. 
Outside of Eaton, we also provide our professional lawn care services in Fort Collins.
Image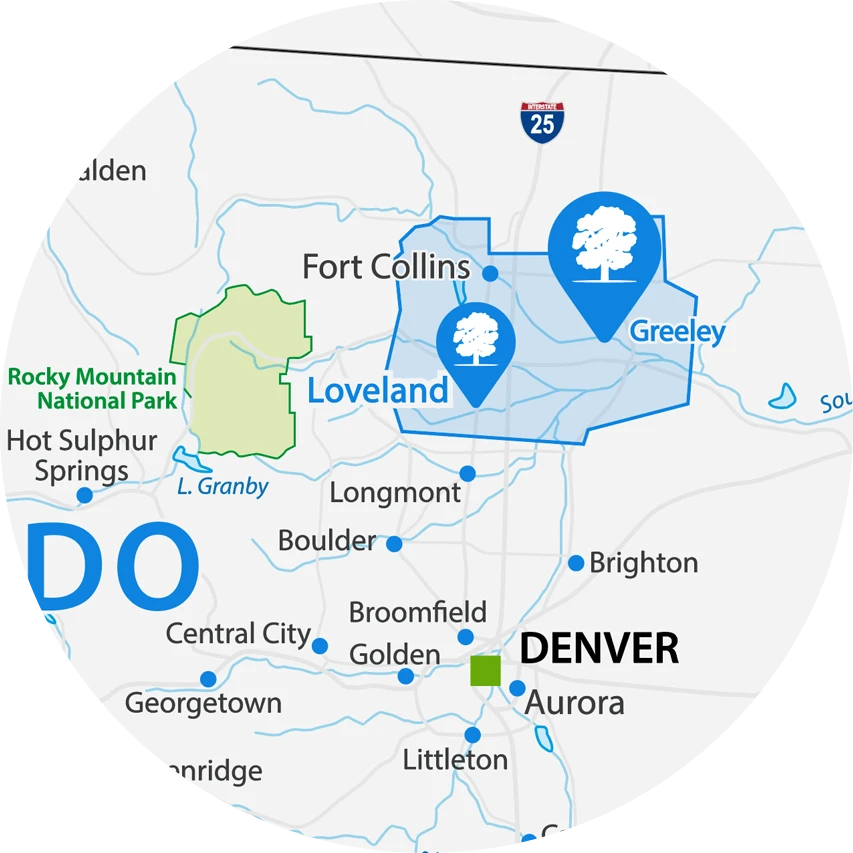 Weed Control in Eaton
You've worked hard on your landscape—don't let weeds like crabgrass, thistle, and dandelions ruin it. Instead, let the local experts help! Our weed control treatments are designed to eliminate existing weeds while preventing new ones from growing - all without damaging your grass.
Family-Friendly Weed Control
Pulling weeds isn't easy and store-bought solutions end up killing more grass than weeds—luckily, there's a better solution! Our weed control in Eaton uses reactive and preventative treatments to target unwanted weeds, giving you lasting protection from even the most stubborn varieties! We also treat flowerbeds, mulched areas, driveway cracks, and other places weeds often pop up.
When you partner with us for weed control, you can expect:
Pre-emergent products applied in January and February to prevent unwanted weeds from germinating.
Post-emergent solution applied to eliminate weeds that grow later in the season.
Treatment with family-friendly products that are both safe and effective.
Guaranteed satisfaction: if you're unhappy with your service, let us know and we'll make things right!
Liquid Aeration in Eaton
When it comes to getting the greenest, healthiest turf, liquid aeration is a must. By puncturing small holes in your turf, we allow your grass to breathe and provide space for your grass to grow back stronger!  
Get A Healthier Lawn With Liquid Aeration
During the summer months, your turf can take a real beating from maintenance practices such as weeding, mowing, and watering. We're here to provide you with liquid aeration in Eaton that produces stronger roots and healthier grass all year long. Our lawn care experts will aerate your lawn, so it's sure to survive the winter and thrive in the spring.
Some benefits of liquid aeration include:
Stronger root development.
Healthier, greener turf.
Stronger immune system to fight off insects and disease.
Substantial or total elimination of bald patches.
No sprinkler damage.
And many more!
Mosquito Control in Eaton
Getting rid of mosquitoes can be difficult thanks to their ability to fly and reproduce quickly in standing water as shallow as a puddle or a birdbath. That's why our mosquito treatments combine targeted treatments for adult populations as well as proactive larvae treatments in order to ensure that your mosquito infestation is reduced quickly and effectively. 
Guaranteed Mosquito Treatments Backed By Decades of Experience
For over 40 years, our team has been helping homeowners just like you take back their yards from insect infestations. Our satisfaction-guaranteed treatments utilize EPA-approved products and formulas to remove the pesky bugs without risking your health or the environment, making us the safe, reliable choice for mosquito control.
You'll receive the following from our mosquito exterminators in Eaton: 
An inspection to identify breeding grounds on your property.
Active pesticide applications to eliminate adult insects.
Targeted treatments of standing water to stop the bug's life cycle.
Advice from your professional exterminator on how to make the most of your treatments.
Four services between June and September for summer-long protection.
Our Guarantee
Should your issues persist in between scheduled treatments, simply let us know and we'll re-service your home for no additional cost to you. That's our guarantee to you!
Image