What kind of problem are you having? Select all that apply.
Lawn Care in Timnath
If your turf is looking thin, brown, or just generally lackluster, look no further than American Turf and Tree Care. We've been providing local lawn care since 1982, so you can depend on us to give your yard the boost it needs. Whether the culprit is a nutrient deficiency, disease, insect problem, or anything in between, our team of lawn care experts has it handled.
Comprehensive Care for a Healthy Lawn
Creating your dream landscape is no easy task, which is why we've worked hard to design a comprehensive care system that really works. We'll treat your property every 4-6 weeks from April until October, providing healthy results for your landscape year-round. 
With our lawn care in Timnath, you can expect:
Slow-release fertilizer to give your grass the nutrients it needs when it needs them.
Pre-emergent weed control to prevent crabgrass, dandelions, and other unsightly plants.
Post-emergent herbicides to give your turf room to grow.
Organic soil conditioner to improve soil quality.
Treatments to help your grass withstand drought and disease.
Outside of Timnath, we also offer our exception lawn care services in Windsor, Eaton, Fort Collins, and beyond.
Image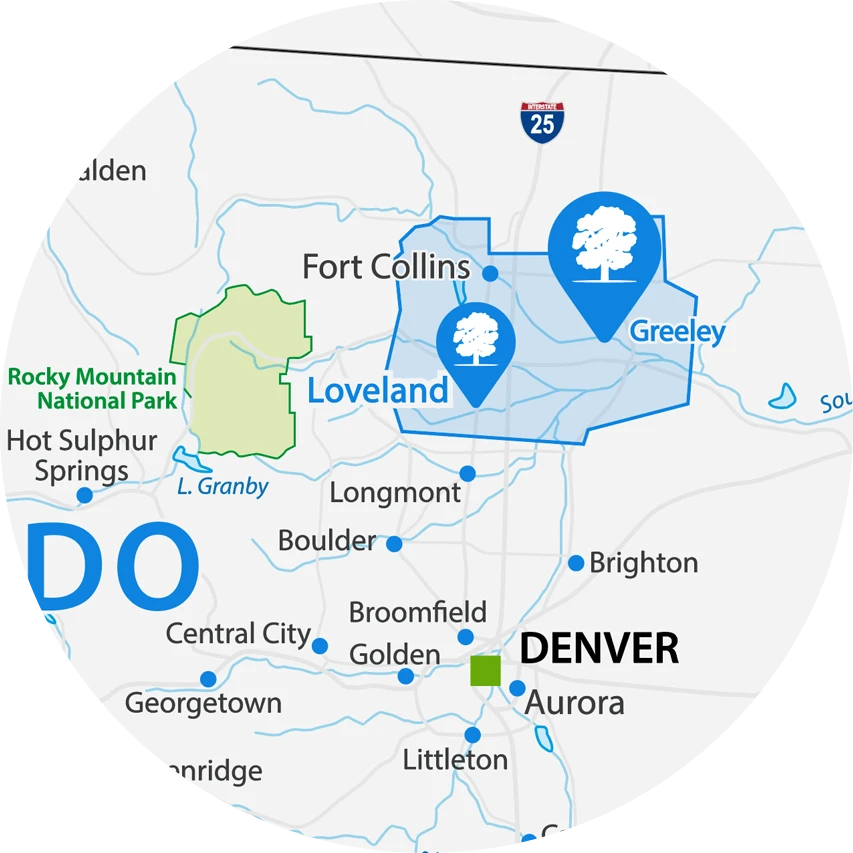 A Lawn You'll Love, Guaranteed!
Here at American Turf and Tree Care, we believe that everyone deserves a yard that they can be proud of. After all, it's the first thing people see when they visit your home. That's why our lawn care team from Greeley backs all of our services with a 100% satisfaction guarantee. If you experience problems between regular visits, all you have to do is let us know! We'll do what it takes to make things right, at no additional charge to you.
Organic Treatment Options
You shouldn't have to choose between caring about the environment and achieving the perfect turf, and with our lawn care treatments, you don't have to! We've developed an organic nutrition system that uses fewer herbicides and pesticides, minimizing its environmental footprint. Instead, this option relies on the millions of natural microbes and disease-fighting fungi that enhance root growth and fortify your turf.
Liquid Aeration in Timnath
Over time, your turf gets worn down from foot traffic, the heat of the sun, rain, weeding, and other factors. As a result, your grass can become dull and lose many of its necessary nutrients, making it even more susceptible to disease. Luckily, we provide liquid aeration in Timnath which will promote strong, healthy grass. Our liquid aeration service increases root development to ensure the best results for your lawn long-term!
Lush, Healthy Grass All Year Long
Our liquid aeration service allows your grass to breathe and take in more water, air, and nutrients. While core aeration may offer you more immediate results, those results are often not long-lasting, making liquid aeration a highly effective, long-term solution for healthier grass! 
With liquid aeration, you will receive several benefits, including:
Stronger root development over time
Growth that promotes lusher, healthier grass
The decrease or complete eradication of bald spots
Grass that is better prepared to fight off disease 
The reduction of insect infestations
A greener, healthier turf for the long haul!
Weed Control in Timnath
Nothing ruins the beauty of a lush landscape like weeds taking over the turf! Unfortunately, here in Colorado, weeds can be a major hurdle when it comes to keeping your yard healthy and beautiful. At American Turf and Tree Care, we've designed a fast and effective treatment plan for weed control that relies on proactive measures to keep weeds gone year-round. Our winter service utilizes high-quality pre-emergent weed control treatments to keep your turf spotless year-round. 
Our weed control in Timnath can prevent all of the following types of local weeds:
Grassy weeds, like crabgrass, goosegrass, and yellow foxtail
Broadleaf weeds, like thistle, dandelions, and clover
Warm-season and cold-season weeds
Annual and perennial weeds
Quality Family-and-Pet-Friendly Formulas
We're committed to using only 100% safe products and techniques for all our lawn treatments. When you work with us, you can rest easy knowing our highly trained technicians will be able to keep your mulch, turf, flowerbeds, and the rest of your landscape weed-free with ease using the best family-safe products. When you partner with us, you'll never have to compromise on quality to get the safe, reliable weed control that you deserve.
Our Guarantee
Should your issues persist in between scheduled treatments, simply let us know and we'll re-service your home for no additional cost to you. That's our guarantee to you!
Image