What kind of problem are you having? Select all that apply.
Tree Care in Windsor
Maintaining healthy trees and shrubs can be a daunting task with the extreme weather conditions in Colorado. Fortunately, our team of tree care experts has over 40 years of experience providing the best tree service in and around Greeley. Winter frost? Summer drought? Colorado weather conditions have nothing against our tree care! No matter what the season, our team will provide the most advanced treatments and solutions for your specific needs.
Our tree care in Windsor includes:
Slow-release fertilization
Insect protection
Disease and fungi control
Fruit sprays
Tree injections
And more!
Winter Tree Care for Year-Round Protection
We also offer winter tree care services to keep your trees, grass, and shrubs safe from dry air and bitterly cold winter weather. Our technicians will tailor each monthly treatment to the unique needs of your landscape, providing your lawn and trees with the perfect amount of water and sealing in moisture using anti-desiccant sprays. Call today to learn how we can provide tree care for you all year long!
Image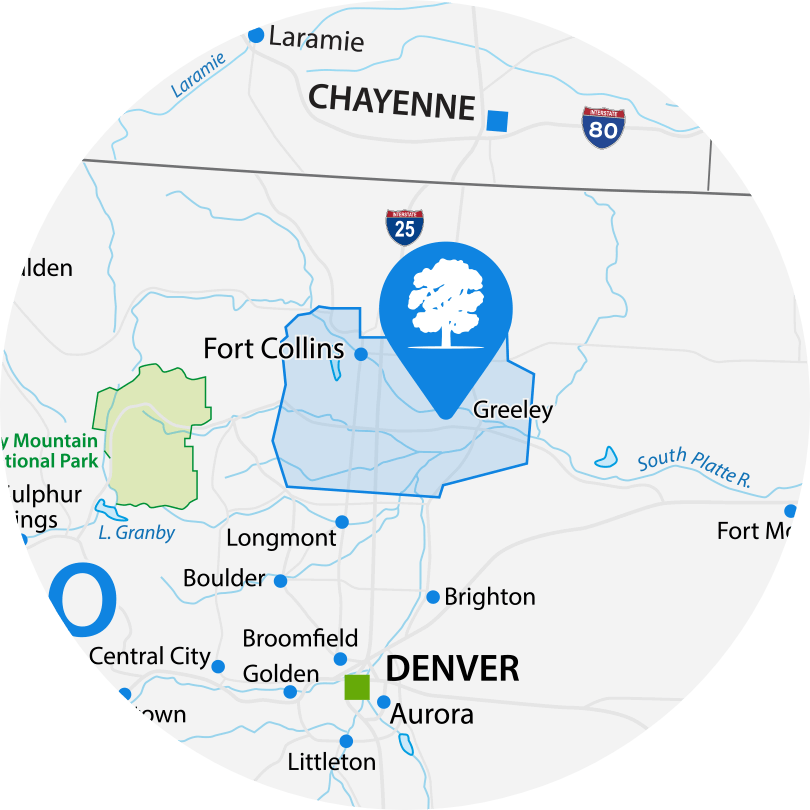 Emerald Ash Borer Treatment in Windsor
The emerald ash borer, also known as the EAB, is a recent and lesser known, but no less dangerous, pest that has been ravaging our beloved trees in the Northern Colorado area. But now, you can say goodbye to these tree-destroying pests for good with our specially designed treatment plans.
Our team of professional tree technicians at American Turf and Tree Care knows just how devastating these invasive insects can be, which is why we offer a full EAB treatment program as part of our tree care package. This treatment program includes:
One of our

qualified technicians

provides a

full, free Emerald Ash Borer inspection

of your property.

Emamectin benzoate injections into the affected trunk.

A field study

success rate of about 90%

.

Two growing season-long protection

against anything left behind.