What kind of problem are you having? Select all that apply.
Lawn Services in Greeley, CO
As a Colorado homeowner, you want lawn services that take all of your turf's needs into account. With decades of local experience, American Turf & Tree Care has been providing healthy results for your landscape since 1982, making us the best option for all of your landscaping needs! Our local technicians are experts at recognizing early warning signs of trouble, such as:
Nutritional deficiencies
Dehydration
Thatch buildup
Compacted soil
Diseases
Insect problems
And more!
Not only will we identify the issue, but we will work with you to find the best solution for your landscape and provide the treatments needed. At the same time, our experienced lawn services team will pamper your grass the way it deserves to be treated.
Services and Technicians You Can Trust, Guaranteed
We want your experience to be hassle-free from the very beginning. Whether you are setting up an appointment with our friendly office staff or communicating with our courteous technicians, you will always be treated with unbeatable customer service.
Plus we back our services with a 100% guarantee. If you're not happy with what you see, give us a call, and one of our highly qualified technicians will be back to treat at no additional cost to you! It's all part of how we do business here at American Turf & Tree Care.
Image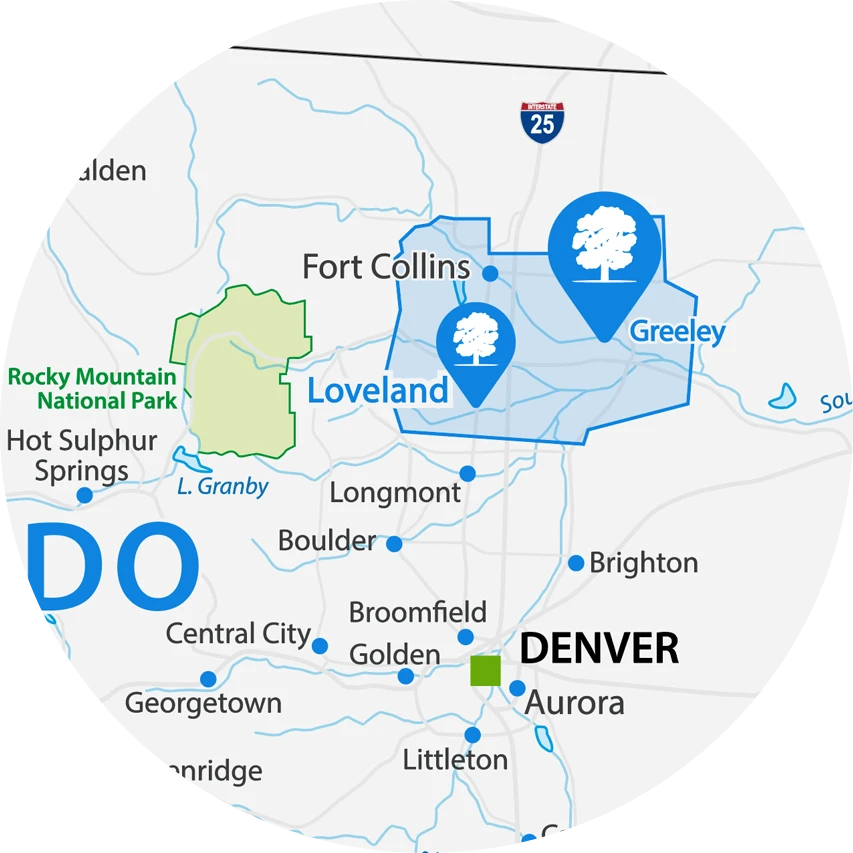 Get the Beautiful, 5-Star Lawn You Deserve
Here at American Turf & Tree Care, we believe in transparency—we're straightforward when it comes to our lawn programs. That way, when you call for your free estimate, you know exactly what you're getting and how much it's going to cost. We believe in upfront, affordable pricing, and delivering 5-star results.
Our lawn program in Greeley includes the following:
Slow-release fertilizer
Blanket and spot spray insect control treatments
Pre-emergent and post-emergent weed control
Iron for vibrant color
And much more!
Environmentally-Friendly Solutions for Your Peace of Mind
At American Turf & Tree Care, our environmental footprint (or lack thereof) is important to us. We developed an Organic Nutrition option—with fewer herbicides and pesticides—as part of our 5-star lawn program. The foundation of our Organic Nutrition program is the millions of beneficial microbes and disease-fighting fungi. With Organic Nutrition, you can rest assured that your grass is getting the care it needs without causing any unnecessary harm to the community.
Weed Control in Greeley
When it comes to maintaining the yard of your dreams, weeds can be a nightmare. No matter how perfectly you water, mow, or fertilize, your yard can still be quickly taken over by weeds such as crabgrass, dandelions, thistle, and clover. The best way to ensure your turf stays weed-free is to call an expert before weeds appear. With our preventative and reactive weed control in Greenley, American Turf & Tree Care is the solution for you!
Weed Treatments Tailored to Meet Your Needs
As local lawn experts with over 40 years of experience, we know that no two landscapes are the same, especially not in Colorado's unique climate. That's why we tailor our weed control to meet your grass' specific needs. 
When you choose our weed control program, you will receive: 
A custom treatment plan.
Pre-emergent weed control to prevent weeds from ever becoming a problem.
Highly effective weed removal services if unwanted foliage is already present.
Seasonal applications to ensure your yard stays weed-free all year long.
Family-friendly products that get the job done without putting your loved ones at risk.
Free re-treatments if you are not completely satisfied with our services!
Liquid Aeration in Greeley
As the year progresses, your turf goes through a lot. Weeding, mowing, foot traffic, and warm weather all take their toll on your grass. The experts at American Turf & Tree Care are here to undo that damage, helping your yard thrive with our liquid aeration in Greeley.
A Stronger Lawn, From the Roots Up
When we aerate your turf, we create small holes that make it easier for water and nutrients to reach your grass' roots and make them stronger. Strong roots lead to a fuller, greener grass that is overall healthier. By aerating in the fall, your grass is strengthened and protected enough to survive the winter. When spring arrives, you'll have a vivid, healthy turf.
Other benefits of our liquid aeration program include:
Zero damage to your sprinklers
Better results than core aeration
No heavy equipment or mess
Stronger roots
Long-lasting bright, healthy turf
Our Guarantee
Should your issues persist in between scheduled treatments, simply let us know and we'll re-service your home for no additional cost to you. That's our guarantee to you!
Image