What kind of problem are you having? Select all that apply.
Tree and Shrub Care
Local Arborist in Johnstown
Are you tired of struggling to maintain healthy trees and shrubs in Johnstown, Colorado? Let our certified arborists at American Turf & Tree Care take care of all your tree and shrub care needs. With over 41 years of experience, we offer a wide range of expert services to meet all of your arborist needs, including:
Seasonal Fertilization
Tree Injections
Fruit Sprays
Tree Disease Treatment
Protection from Emerald Ash Borers
Shrub care
Ornamental Insect Control
Our team of tree disease specialists in Greeley is committed to helping you achieve a beautiful and healthy landscape. We offer a 100% satisfaction guarantee on all our services, so you can feel confident that your trees and shrubs are in good hands.
At American Turf and Tree Care, we believe that taking care of your landscape should be a joyous experience, not a frustrating one. That's why we bring our passion for arboriculture to every job we do. Whether we're scheduling routes or out in the field on a service call, our team is always enthusiastic and ready to get the job done right.
Don't let endless tree and shrub care stress you out any longer. Contact us today to schedule your tree and shrub fertilizer service or any of our other arborist services. Let us help you create a vibrant landscape that will be the envy of the neighborhood.
Image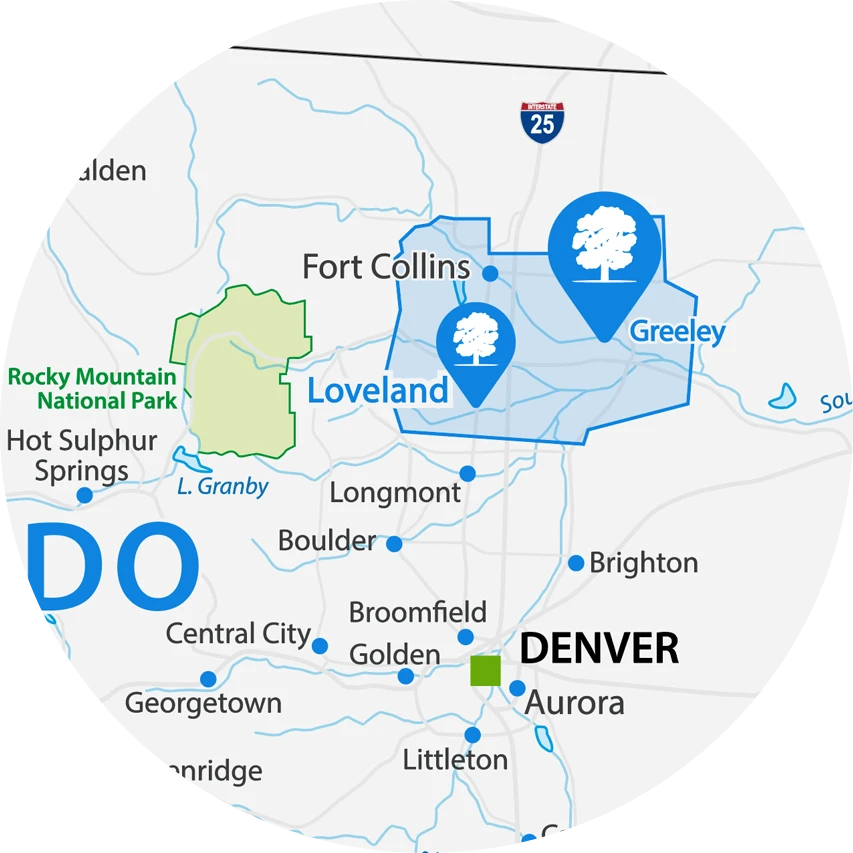 Emerald Ash Borer Treatment in Johnstown
The sooner you identify and eliminate these invasive, shiny green beetles, the better chance you have to save your trees before they die from the extensive damage these insects cause.  
Our Emerald Ash Borer treatment is an essential part of our tree care package and you can expect:
A comprehensive Emerald Ash Borer inspection to assess the health of your trees.
Development of a custom treatment plan based on your situation.
Injection of emamectin benzoate into tree trunks for optimum treatment delivery.
Protection that lasts for 2 growing seasons.
Even if your trees have not been attacked by EABs, our program will work to protect them from potential infestation, saving you from worrying about their future. It only requires a fresh application every 2 years.
Do You Have an Emerald Ash Borer Problem?
There are some signs that may indicate that your trees are dealing with an EAB infestation, including:
Yellowing leaves
A thinning canopy
Bark loss
Sprouts from the tree trunk
S-shaped galleries under the bark
D-shaped exit holes in the bark
An increase in bird activity, such as woodpeckers looking for a meal
You can find more information on EAB damage and treatment options in our blog.
Tree Care in Johnstown
Transform your ornamental trees into healthy and vibrant beauties with our professional Tree Care Service in Johnstown. Our skilled and passionate tree arborists are experts in identifying and treating tree diseases, guaranteeing your satisfaction with our customized tree care solutions. Here are some of the features we offer:
Comprehensive tree inspections – We thoroughly inspect your trees to identify any health and growth issues, before diagnosing solutions designed to improve your tree's quality and vitality.
Customized treatments – Our solutions are customized to suit your specific tree care needs, ensuring your trees receive the personalized care they require.
Seasonal tree fertilization – We offer year-round fertilization to ensure your trees receive the vital nutrients they need to thrive in every season.
Winter watering – Proper hydration is crucial for your trees to survive the harsh winter season. Our expert technicians will ensure your trees remain hydrated and healthy.
Tree injections – Protect your ornamental trees from disease and pests with our tree injections to keep them healthy and strong.
Eco-friendly fruit sprays – Our eco-friendly and safe fruit sprays will protect your trees from harmful pests.
Tree disease treatment – Our team is experienced in diagnosing and treating tree diseases, including iron chlorosis, ensuring your trees remain healthy all year long.
Protection from emerald ash borers – We protect your trees from emerald ash borers and other pests with our effective preventive treatments.
Get a FREE quote today and discover how our exclusive Tree Care Service in Johnstown can transform your garden into a beautiful and healthy oasis.
Shrub Care in Johnstown
Transform your shrubs from frustrating to flourishing with our expert shrub care service in Johnstown. Our certified shrub arborist with over 41 years of local experience provides comprehensive inspections to diagnose and treat boxwood blight, fire blight, and other diseases that can hamper the health and beauty of your shrubs. Here's how our eco-friendly shrubbery care can help you achieve a stunning landscape all year round:
Comprehensive Inspections: Our certified arborist will examine your shrubs to determine the specific symptoms from which your shrub is suffering. We'll also address any pH imbalances and iron deficiencies in your soil to give your shrubs the foundation they need to thrive.
Seasonal Shrub Fertilizer: We use eco-friendly fertilizers to boost the growth of your shrubs in every season. Our fertilizers contain the necessary nutrients your shrubs need to stay healthy and beautiful all year round.
Winter Shrub Care: Our team will provide winter watering for your Evergreen shrubs to protect them from damage and maintain their health throughout the winter season.
Treat Boxwood and Fire Blight: We provide specialized treatment options to cure and prevent Boxwood and Fire Blight, which are among the most common shrub diseases in Colorado.
Free Quote: We provide a free quote before starting any shrub care service so that you can decide whether our service is right for you.
Transform your shrubs from frustrating to flourishing with our expert shrub care service in Johnstown. Contact us now to schedule a free consultation and transform your landscape into a beautiful sight.
Our Guarantee
Should your issues persist in between scheduled treatments, simply let us know and we'll re-service your home for no additional cost to you. That's our guarantee to you!
Image