What kind of problem are you having? Select all that apply.
Tree Service in Johnstown
Trees can add a lot to the curb appeal of your home, so it's important to protect your biggest investment. With over 40 years of experience, our highly trained professionals have developed a customized tree service program for the Greeley area, tailored to the exact needs of your landscape, protecting it from disease, insect infestations, and winter wear and tear.
With our tree care program in Johnstown, you'll benefit from:
Seasonal fertilization 
Dormant oil sprays in spring and winter
Protection from Iron Chlorosis & other tree diseases 
Fruit sprays
Winter tree service
Anti-desiccant spray
Protect Your Trees from Winter Damage
As the warmer weather begins, you may start to notice the damaging effects of the harsh winter weather, most caused by dehydration. While our technicians will work in the warmer months to repair winter damage, know that our winter tree service program prevents damage in the first place! Completed in the fall, our winter program uses an anti-desiccant spray to keep your plants naturally hydrated during the colder months.
Image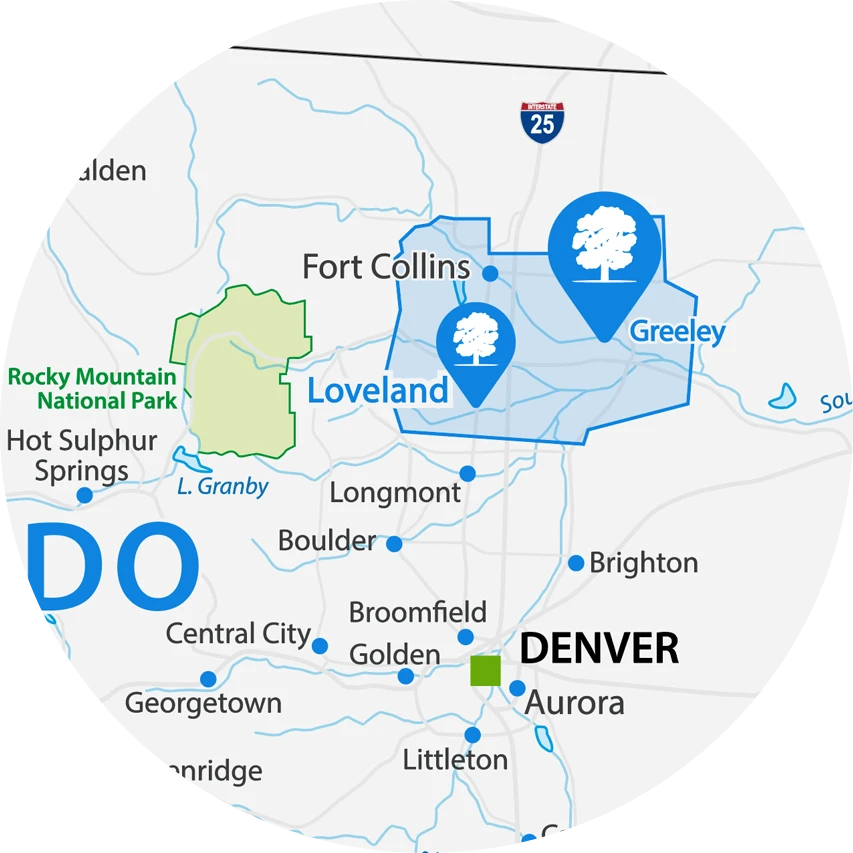 Emerald Ash Borer Treatment in Johnstown
The sooner you identify and eliminate these invasive, shiny green beetles, the better chance you have to save your trees before they die from the extensive damage these insects cause.  
Our Emerald Ash Borer treatment is an essential part of our tree care package and you can expect:
A comprehensive Emerald Ash Borer inspection to assess the health of your trees.
Development of a custom treatment plan based on your situation.
Injection of emamectin benzoate into tree trunks for optimum treatment delivery.
Protection that lasts for 2 growing seasons.
Even if your trees have not been attacked by EABs, our program will work to protect them from potential infestation, saving you from worrying about their future. It only requires a fresh application every 2 years.
Do You Have an Emerald Ash Borer Problem?
There are some signs that may indicate that your trees are dealing with an EAB infestation, including:
Yellowing leaves
A thinning canopy
Bark loss
Sprouts from the tree trunk
S-shaped galleries under the bark
D-shaped exit holes in the bark
An increase in bird activity, such as woodpeckers looking for a meal
You can find more information on EAB damage and treatment options in our blog.
Our Guarantee
Should your issues persist in between scheduled treatments, simply let us know and we'll re-service your home for no additional cost to you. That's our guarantee to you!
Image