What kind of problem are you having? Select all that apply.
Tree Care in Eaton
Dried and dead trees are an easy way to kill the curb appeal of your home, but with the long Colorado Winter, it can be hard to keep your trees happy and healthy. Fortunately, the tree experts at American Turf & Tree Care are here to help! If you are in need of a tree service company you can count on to keep your trees looking their best, American Turf & Tree Care is the way to go!
Winter Tree Care From The Local Experts
With over 40 years of local experience providing quality tree care around Greeley, our team of experts is no stranger to the damage a long Colorado winter can cause to trees and shrubs. That's why our winter tree care is seasonally tailored, preparing trees for the winter by taking proactive steps in the fall. By hydrating and fertilizing before the coldest weather hits, we can prevent trees from drying out and showing damage in late spring and early summer.
Our winter tree care services include:
Five to six monthly visits throughout the fall for our lawn technicians to hydrate your trees before cooler weather sets in.
Anti-desiccant spray application to prevent your trees from further damage caused by pulling from water stored in their stems and leaves.
A 100% guarantee that if you are ever dissatisfied with the health of your trees, we'll do everything we can to make it right!
Image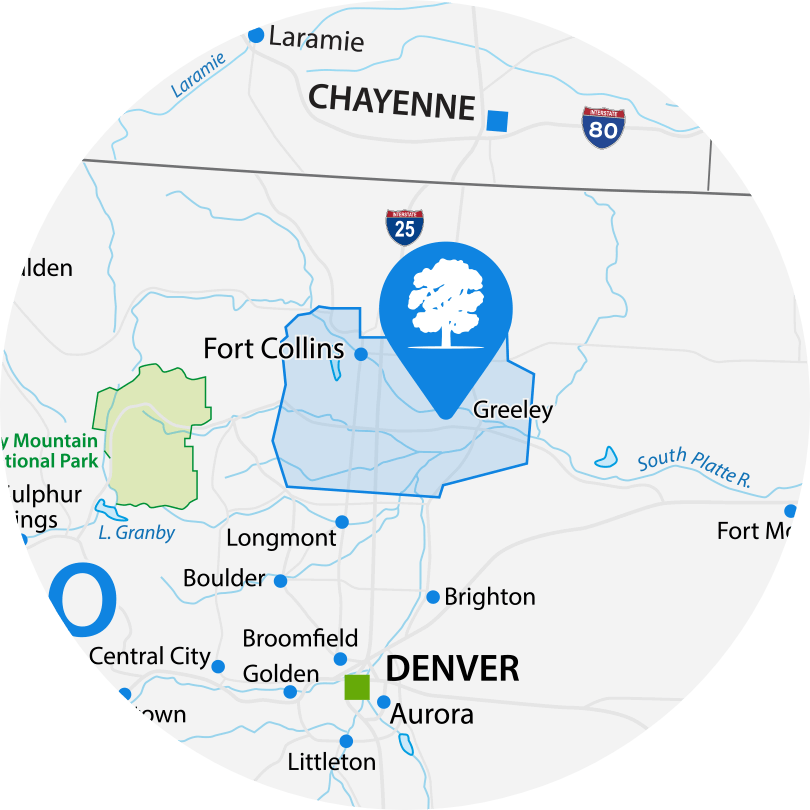 Emerald Ash Borer Treatment in Eaton
Emerald Ash Borers (EAB) are tiny jewel-green insects that are invasive and highly destructive. Their larvae tunnel into a tree to destroy the cambial layer within and disrupt the plant's entire vascular system. It only takes about 10 years for EAB to consume an entire forest once an infestation has set in.
Protecting your own trees from EAB requires a preventative approach. Over-the-counter methods are widely ineffective, but with professional Emerald Ash Borer treatment from our qualified arborists, you can avoid expensive tree removals or replacements. 
Our EAB treatment in Eaton comes with our tree care package and includes:
A free, thorough inspection

from an experienced technician.

An emamectin benzoate trunk injection

to eliminate EABs at every stage of the life cycle.

Two-year long-lasting protection

that can be reapplied.

A 99% success rate

based on national trials.
When you choose American Turf and Tree Care to get ahead of EAB, you can rest easy knowing that your trees are getting the most effective, scientifically proven defense against EAB damage.