What kind of problem are you having? Select all that apply.
TREE AND SHRUB CARE
Local Arborist in Eaton
At American Turf and Tree Care, we not only deliver quality results but also have fun in the process. Our culture of joy and excitement translates well with our skilled technicians and customers alike. Let us take care of your tree and shrub care needs in Eaton, Colorado.
Transform your Eaton landscape with the expert services of our certified arborists. With over 41 years of experience in tree and shrub care, the arborist team at American Turf and Tree Care is Eaton's go-to for quality tree and shrub care. We offer a wide range of services to address all your tree and shrub care needs, including:
Seasonal Fertilization
Tree Injections
Fruit Sprays
Protection from Emerald Ash Borers
Shrub Care
Tree Disease Treatment
And more!
Our tree and shrub fertilizer service is designed specifically to keep your trees and shrubs healthy and thriving in the unpredictable Colorado climate. Our tree disease specialists are trained to identify and treat a wide variety of common tree diseases, helping you maintain a lush and vibrant property all year round.
At American Turf and Tree Care, we're committed to providing the very best arborist services, backed by our 100% guarantee. Our team is passionate about what we do, and we believe that tree and shrub care should be a fun and enjoyable experience for everyone involved.
So why wait? Transform your landscape today with the help of Eaton's premier arborists. Contact us today to schedule your consultation.
Image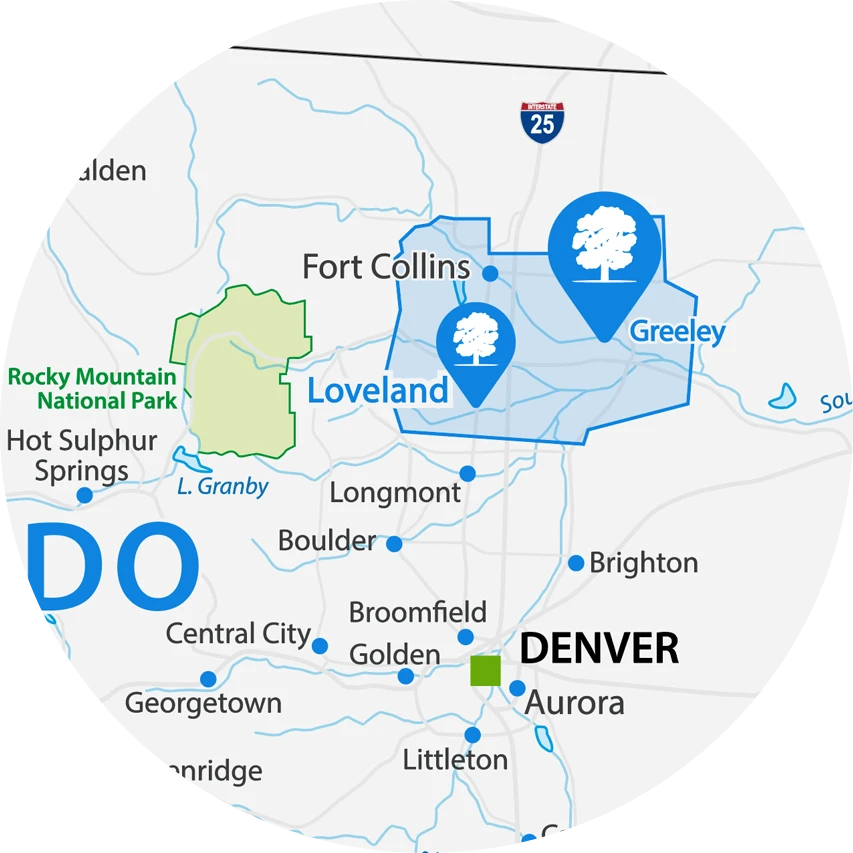 Emerald Ash Borer Treatment in Eaton
Emerald Ash Borers (EAB) are tiny jewel-green insects that are invasive and highly destructive. Their larvae tunnel into a tree to destroy the cambial layer within and disrupt the plant's entire vascular system. It only takes about 10 years for EAB to consume an entire forest once an infestation has set in.
Protecting your own trees from EAB requires a preventative approach. Over-the-counter methods are widely ineffective, but with professional Emerald Ash Borer treatment from our qualified arborists, you can avoid expensive tree removals or replacements. 
Our EAB treatment in Eaton comes with our tree care package and includes:
A free, thorough inspection

from an experienced technician.

An emamectin benzoate trunk injection

to eliminate EABs at every stage of the life cycle.

Two-year long-lasting protection

that can be reapplied.

A 99% success rate

based on national trials.
When you choose American Turf and Tree Care to get ahead of EAB, you can rest easy knowing that your trees are getting the most effective, scientifically proven defense against EAB damage. 
Tree Care in Eaton
Transform your ornamental landscape with our tree care service in Eaton. Our certified tree arborists provide personalized care for your trees throughout the year, ensuring optimal health and beauty in every season. Here are some of the features of our service:
Comprehensive inspection: Our experts will inspect your trees and recommend the best treatment plan to address any issues.
Customized treatments: We tailor our treatments to match the individual needs of each tree, so they receive the care they deserve.
Seasonal fertilization: We provide specialized fertilization treatments during each season to ensure that your trees get the right nutrients at the right time.
Winter watering: Proper hydration is crucial for your trees' health and resilience during the winter months, and our experts will help keep your trees hydrated and protected against damage from dehydration.
Tree injections: Our tree injection services deliver vital nutrients and pesticides directly into the tree, providing a targeted and effective solution to tree diseases and insect infestations.
Eco-friendly fruit sprays: Protect your fruit trees from harmful pests with our eco-friendly fruit spray treatments.
Tree disease treatment: We provide advanced treatment solutions for tree diseases, ensuring that your trees remain healthy and beautiful.
Protection from Emerald Ash Borers: Our experts deliver targeted treatments to protect your ash trees from devastating Emerald Ash Borer infestations.
Contact us today for a free quote and let us help you treat iron chlorosis and protect your ornamental landscape year-round.
Shrub Care in Eaton
Transform your shrubbery with our top-notch Shrub Care Service in Eaton. Our team of expert shrub arborists has over 41 years of experience in providing eco-friendly and effective shrubbery care services in Northern Colorado to keep your landscape flourishing. Here's why you need to trust our shrub care service:
Comprehensive Inspection: Our certified arborists conduct a comprehensive diagnosis of your shrubs, diagnosing any potential disease, or insect issues and recommend treatment to ensure that they're healthy all year round.
Seasonal Fertilizer: We know the right nutrients that your shrubs need for each point in the season to keep them healthy and boost their growth. Our fertilization treatments are eco-friendly and ensure your shrubs get the essential macro and micronutrients that they need.
Winter Shrub Care: Our year-round shrub care service in Eaton includes winter watering, which Evergreen shrubs require to keep them hydrated through cold winter months. We understand your shrubs' unique needs and tailor our winter treatments to keep them healthy throughout.
Treat Boxwood and Fire Blight: Common shrub diseases such as boxwood blight and fire blight can be detrimental to their health. We identify the specific symptoms and recommend treatment to combat these diseases and restore your shrubs' health.
Free Quote: Our shrub care service is tailored to meet the unique needs of your shrubs, and we offer personalized solutions based on these needs. Get a free consultation and quote to understand how we can transform your shrubs' current state.
Don't let your shrubs struggle to thrive throughout the year. Sign up for our shrub care service in Eaton and let us handle their care. Trust us to provide eco-friendly and effective treatments that keep your shrubs flourishing. Contact us today to learn more.