Image
The Best Tree Care Company in Timnath
What kind of problem are you having? Select all that apply.
Tree and Shrub Care
Local Arborist in Timnath
Transform your landscape and keep it looking its best with our certified arborists in Timnath, Colorado. Our shrub and tree arborist services offer a range of solutions tailored to fit your needs including:
Seasonal fertilization to promote healthy growth and strong roots
Tree injections to ward off pests and disease
Fruit sprays to ensure a bountiful harvest
Tree disease treatment to preserve the health of your trees
Protection from Emerald Ash Borers to safeguard your beloved ash trees
Shrub care to maintain a well-manicured and vibrant landscape
At American Turf and Tree Care, our experienced tree and shrub care specialists in Greeley have been serving the community for 41+ years. We guarantee 100% satisfaction and are committed to preserving the environment through our save a tree, plant a tree program. Plus, our ornamental insect control uses only eco-friendly treatments to keep your landscape healthy and thriving without harming your furry friends.
Don't let your trees and shrubs suffer any longer. Reach out to our tree disease specialists and see the difference our tree and shrub fertilizer service can make.
Image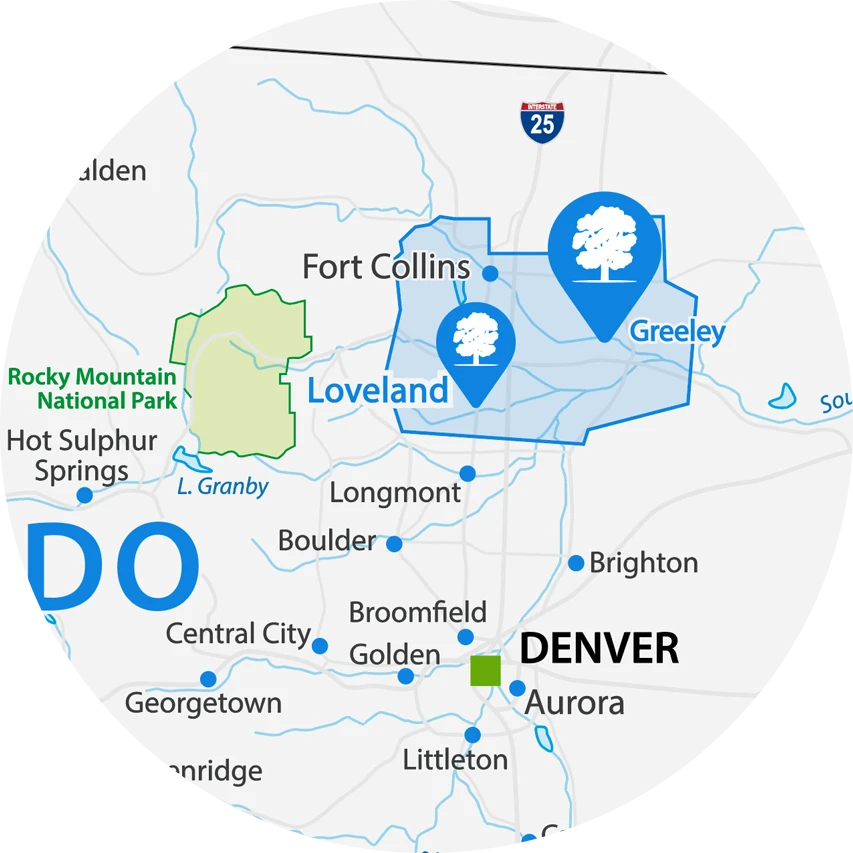 Emerald Ash Borer Treatment in Timnath
Emerald ash borers, known as EABs, are dangerous, invasive pests that want nothing more than to feast on your trees, resulting in severe damage to the tree and its eventual death. If you start noticing any of these signs of Emerald Ash Borer damage, call our team of professionals immediately:
Thinning canopy

Loss of bark

Leaves yellowing

S-shapes under the bark

D-shaped holes in the bark

Random sprouts in the trunk
Our comprehensive emerald ash borer treatment plans get rid of any insects currently infesting your trees and offer two years of complete protection. Start protecting your landscape today!
Tree Care in Timnath
Need tree care service in Timnath? Look no further than American Turf and Tree Care, where our expert tree arborists provide year-round care to keep your ornamentals thriving. Whether you need tree disease treatment or want to prevent ugly winter damage, our customized treatments and eco-friendly fruit sprays are here to help. With our comprehensive tree inspections and iron chlorosis treatments, we've got you covered. Here are some of the features of our service:
Customized Treatments: Our treatments are tailored to your individual needs, ensuring that your trees get exactly what they need to thrive.
Seasonal Tree Fertilization: Our fertilization experts use the latest methods to keep your trees healthy and beautiful all year round.
Winter Watering: With our regular visits, your trees will stay hydrated all winter long, preventing ugly winter damage.
Tree Injections: Our injection techniques strengthen your trees against diseases that can ruin your beautiful landscape in the spring.
Eco-Friendly Fruit Sprays: Our sprays are eco-friendly and won't harm your trees or the environment.
Tree Disease Treatment: Our tree care experts have the knowledge and experience necessary to treat a variety of tree diseases.
Protection from Emerald Ash Borers: With our specialized treatments, we keep these destructive insects at bay.
Want a free quote? Contact us today and see for yourself the difference our tree care service in Timnath can make for your landscape.
Shrub Care in Timnath
Maintain healthy shrubs in Timnath with our expert shrub care service. Our certified shrub arborists with over 41 years of experience will diagnose any disease or insect issues and recommend treatment for your shrubbery care needs. Here's what we offer:
Comprehensive inspections: Our shrub arborists will perform a thorough inspection of your shrubs to diagnose any diseases, including boxwood and fire blight, and recommend an effective treatment plan.
Year-round care: We provide eco-friendly shrub care services to keep your shrubs healthy and beautiful throughout every season.
Seasonal shrub fertilization: We address pH imbalances and iron deficiencies in your soil with our seasonal shrub fertilization service, giving your shrubs the foundation they need to thrive.
Winter shrub care: We offer winter watering for your evergreen shrubs, ensuring they stay hydrated and healthy during the coldest months.
Free quote: Get started with our shrub care service in Timnath today and receive a free quote for our services.
Trust us to treat your shrubs for diseases like needle, tip, or twig blights, leaf spots, powdery mildew, and pachysandra volutella blight, among others. Let us handle the hard work of maintaining your shrubs so you can enjoy a beautiful landscape year-round. Contact us today for a free quote on shrub care services.