What kind of problem are you having? Select all that apply.
Tree Care in Timnath​
Trees are complex ornamentals to care for. They can easily fall victim to pests, drought, fungus, and countless other issues, and when they do it can be difficult to find the best solution to get them back to health. When you work with your local tree care experts at American Turf and Tree Care, you'll get quality tree care backed by 40 years of experience providing tree service in and around Greeley.
Partner with us to get the following:
Eco-friendly organic tree fertilizer to fortify your ornamentals.
Treatment for tree diseases, including tree injections and dormant oil treatments.
Protection against pests such as the emerald ash borer insect. 
Guaranteed service—if you experience issues between treatments, call us for a free re-service.
And more!
Reliable Winter Tree Care
Here in Colorado, our cold, dry winters can cause significant damage to your trees that you'll only begin to notice in May and June. Thankfully, our team at American Turf and Tree Care offers quality winter tree care to protect your ornamentals year-round. Our technicians will visit once per month in the winter and spray up to 1,500 gallons of water if necessary to rehydrate your trees.
Image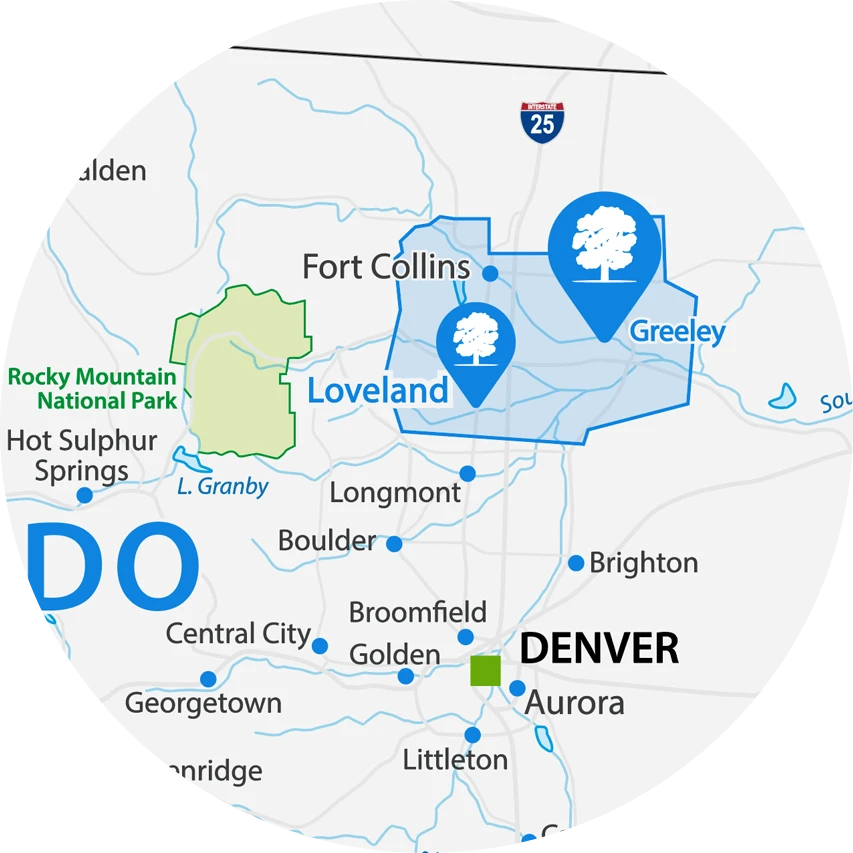 Emerald Ash Borer Treatment in Timnath
Emerald ash borers, known as EABs, are dangerous, invasive pests that want nothing more than to feast on your trees, resulting in severe damage to the tree and its eventual death. If you start noticing any of these signs of Emerald Ash Borer damage, call our team of professionals immediately:
Thinning canopy

Loss of bark

Leaves yellowing

S-shapes under the bark

D-shaped holes in the bark

Random sprouts in the trunk
Our comprehensive emerald ash borer treatment plans get rid of any insects currently infesting your trees and offer two years of complete protection. Start protecting your landscape today!