What kind of problem are you having? Select all that apply.
Lawn Care in Windsor
The Colorado climate can wreak havoc on your turf–but it doesn't have to. At American Turf & Tree Care, we give you the high-quality lawn care that your property needs to withstand harsh temperatures, drought conditions, frost, and more through customized programs. 
Customized Lawn Care Services for Proven Results
Because no two yards are alike, it's essential that our treatments are customized to your specific turf. That's why we give your grass everything it needs for optimum results with our lawn care program. Every 4-6 weeks from April to October, our team of experts will deliver effective and comprehensive service that includes: 
Custom lawn fertilization
Disease control & protection
Weed control treatments
Liquid aeration
Grub control
And much more!
Contact Us Today To Get Started!
The best part? We offer an Organic Nutrition option—by introducing millions of beneficial microbes and disease-fighting fungi, we reduce the number of herbicides and pesticides that we use, while still delivering impressive results you can take pride in.
With our lawn care office in Greeley, we also offer our lawn care services in Severance.
Image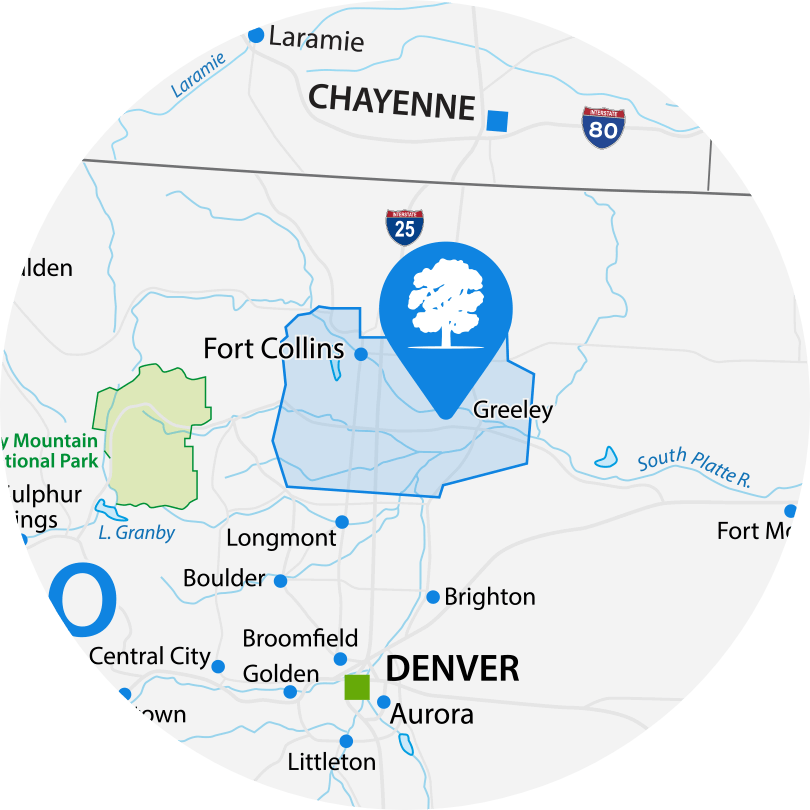 Weed Control in Windsor
With over 40 years of experience creating beautiful lawns, we know what to do when your grass won't grow or there are bald, yellow patches taking over your yard. Our weed control is designed to protect all the areas in your turf where weeds could become an issue—in grass and shrubs, and around trees, flower beds, and mulched areas. 
Safe and Tested Weed Control For Your Lawn
We are committed to eliminating weed populations in your yard, but our number one priority is keeping you safe! We test every product for safety and customize our formulas to meet your grass' specific needs. You can trust our team of experienced technicians to obliterate invasive vegetation without putting your children, your pets, or anyone else in danger. 
Our treatments only utilize the most effective products on the market:
Pre-emergent herbicides, which prevent weeds from spreading further into your yard
Grounded deposition aids that help the pre-emergents get ingrained into the soil, and protect decomposition from UVA exposure
Non-selective herbicides to destroy any and every weed that they come into contact with
Liquid Aeration in Windsor
While lawn maintenance, mowing, and fertilizing are all important to preserving the health of your grass, they're not the only services to ensure a healthy turf! Despite regular care, many lawns suffer from compacted soil and thatch buildup. Liquid aeration involves creating small holes in your turf to break up the soil, allowing vital nutrients like air, nutrients, and water to reach your grass' root system.
Strengthening Your Lawn from the Inside Out
There is no better time than early fall to service your lawn with liquid aeration! By preparing your grass to endure our harsh Colorado winter, this treatment will guarantee you a healthy, vibrant turf for the coming spring and summer. In addition to being less damaging than a sprinkler system and more effective than core aeration, liquid aeration provides a number of other benefits for your turf, such as:
Stronger roots
A better immune system 
Less bald patches or brown patch
Brighter, beautiful turf
And more!
Mosquito Control in Windsor
We have more than 40 years of experience providing professional mosquito control. Since 1982, homeowners just like you have trusted our team to protect their yards and their families from itchy bug bites. 
When it comes to mosquitoes, our customers aren't just worried about the itching. These bloodsuckers can pose a real threat to your family and pets, carrying diseases like Zika Virus and Rocky Mountain Spotted Fever. Our mosquito control experts are trained to treat your yard using minimally invasive products and take preventative action to shield your property from these insects this summer, so you can spend as much time enjoying your backyard as possible.
Recurring Treatments for Lasting Relief
Stopping a mosquito outbreak in its tracks depends on technicians who get to the root of the problem. At American Turf & Tree Care, every technician is carefully trained on reactive and proactive solutions. 
Our mosquito control in Windsor includes:
Targeting breeding areas where the insects live and reproduce.
Visiting and treating your yard monthly during mosquito season.
Taking precautions to keep your children, pets, and the environment safe.
Providing suggestions on how you can eliminate breeding grounds yourself.
Guaranteed Services for Your Peace of Mind
At American Turf & Tree Care, we are committed to going above and beyond with every service. From using safer, environmentally-friendly products for your family's health, to providing services in a friendly, courteous manner—we put your need first! That's why we offer a 100% service guarantee! If you have any issues with our customized lawn care solutions between treatments for any of our services, we'll re-treat at no additional cost! 
Our Guarantee
Should your issues persist in between scheduled treatments, simply let us know and we'll re-service your home for no additional cost to you. That's our guarantee to you!
Image