What kind of problem are you having? Select all that apply.
Tree Care in Fort Collins
Healthy, beautiful trees offer major curb appeal. However, it's not always easy to maintain them. Things like insect activity, disease, and environmental factors take their toll, leaving your trees looking lackluster. If you're looking to save your trees, look no further than our tree care in Fort Collins! We'll have your trees looking their best with a combination of effective reactive and preventative treatments.
Our tree care program includes services such as:
Tree diseases treatment
Seasonal tree fertilizer
Dormant oil treatments
Anti-desiccant spray
Insect control
Tips from the tree experts
And more!
Outside of Fort Collins, we also offer our tree services in Loveland, Severance, Timnath, and other communities around Greeley.
Protect Trees from Harsh Winter Weather
Winter weather can wreak havoc on trees, and you often don't notice the damage until months later. The biggest issue your ornamentals are up against is desiccation, which is when trees don't receive enough moisture or the cold air causes them to dry out. This results in dying, damaged, and unsightly trees in the spring. The best way to prevent this from happening is with our winter tree care in Fort Collins. 
We fight tree desiccation by:
Thorough watering of your trees—up to 1,500 gallons—in the fall to ensure their root systems have enough water.
Anti-desiccant spray, which is a waxy substance that locks in moisture and prevents them from drying out.
Our satisfaction guarantee! If you're ever unhappy, simply let us know and we'll work hard to make things right.
Image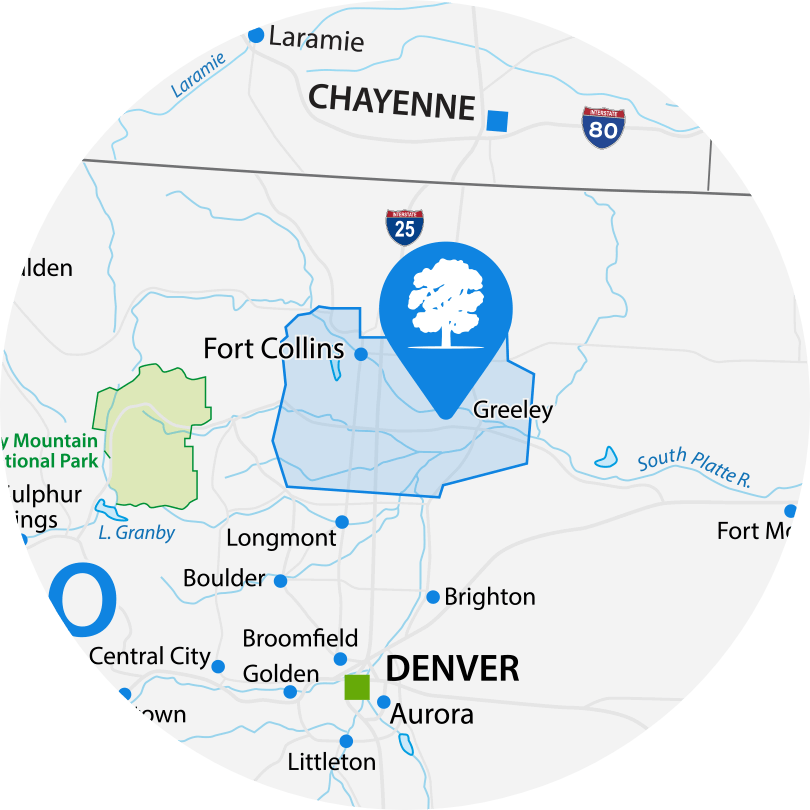 Our Guarantee
Should your issues persist in between scheduled treatments, simply let us know and we'll re-service your home for no additional cost to you. That's our guarantee to you!
Image