What kind of problem are you having? Select all that apply.
Tree and Shrub Care
Local Aborist in Fort Collins
Discover the Fort Collins Colorado-certified arborists that will transform your landscape into a thriving natural oasis! With 41+ years of experience in tree and shrub care American Turf and Tree Care provides a 100% guarantee on all our services. Our tree disease specialists protect your landscape with professional tree injections and protection against destructive Emerald Ash Borers. Our expert shrub and tree arborist team located in Greeley will keep your plants flourishing with careful pruning. Our seasonal tree and shrub fertilizer service ensures that your landscape flourishes through every season. Some of the arborist services we offer include:
Seasonal Fertilization
Tree Injections
Fruit Sprays
Tree Disease Treatment
Protection from Emerald Ash Borers
Shrub care
And more
Our arborists in Fort Collins know the area's climate and soil types; that's why we customize our services to meet your landscape's specific needs. But don't take our word for it - see our satisfied customers' glowing reviews for yourself. Join them in experiencing the joy and excitement that our team brings to every job; contact us now for a consultation!
Image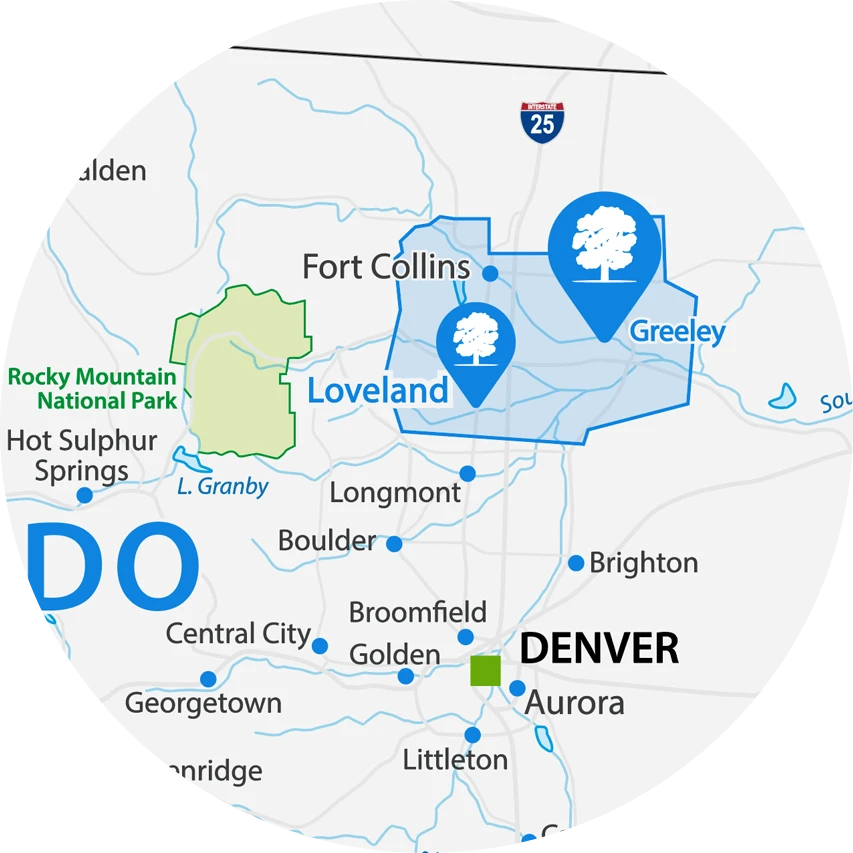 Tree Care in Fort Collins
Transform your Rocky Mountain landscape with our expert tree care service in Fort Collins. You won't have to worry about a thing with our team of skilled tree arborists who provide personalized service for your ornamental trees all year round.
Our standout features include:
Comprehensive tree inspections: We thoroughly examine your trees to identify any issues before creating a custom treatment plan.
Customized treatments: Your trees are unique, and so are their needs. We tailor our treatments to suit the specific requirements of each of your trees.
Seasonal fertilization: Our fertilization program is designed to promote healthy growth throughout the changing seasons.
Winter watering: Proper hydration helps prevent winter damage, and we ensure your trees get enough water to keep them healthy all winter long.
Tree injections: Protect your trees from damage and disease with our tree injections using the latest industry techniques and technology.
Eco-friendly fruit sprays: Keep your treasured fruit trees looking vibrant and healthy with our eco-friendly fruit sprays.
Tree disease treatments: Our team is trained to identify and treat a wide range of tree diseases to keep your landscape looking its best.
Protection from Emerald Ash Borers: Trust our experts to protect your ash trees from Emerald Ash Borers, a major threat to Colorado's ash tree population.
Want to know more? We offer a free quote so you can discover how our tree care service in Fort Collins can benefit your landscape. Say goodbye to tree diseases like Iron Chlorosis and hello to healthy, thriving trees.
Shrub Care in Fort Collins
Transform your shrubbery with our top-rated shrub care service in Fort Collins. Our certified shrub arborists have over 41 years of experience and use only eco-friendly practices to provide unparalleled shrub care that keeps your landscape looking beautiful year-round. Here are just a few of the features we offer:
Comprehensive inspection: Our team of experts will diagnose any shrub disease or insect issues and recommend treatment to address problems like boxwood blight, fire blight, needle blights, and root rots.
Seasonal shrub fertilizer: We'll ensure your shrubs get the nutrients they need to thrive at every stage of the season, giving them a solid foundation for growth.
Winter shrub care: Even in the coldest months, our team will provide year-round care to keep your shrubs healthy, including winter watering for Evergreens.
Treatment for boxwood and fire blight: These common diseases can devastate your shrubs, but our comprehensive treatments will keep them protected and thriving.
Free quotes: We'll provide you with a detailed quote upfront, so you know what to expect every step of the way.
At American Turf and Tree Care, we believe that your landscape should be a source of pride and enjoyment. Let us take care of your shrubbery care needs so you can sit back, relax, and enjoy your beautiful new landscape. Contact us today for a free quote.