Image
The Best Local Tree Care Company in Greeley
What kind of problem are you having? Select all that apply.
Tree and Shrub Care
Local Aborist in Greeley
Transform your landscape with expert tree and shrub care from our certified arborists in Greeley, Colorado! With over 41 years of experience, American Turf and Tree Care is the go-to tree and shrub arborist for comprehensive care and protection against common pests and diseases. Our services include:
Seasonal fertilization to ensure optimal growth and health
Tree injections for targeted pest and disease treatment
Fruit sprays to protect your fruit trees from damage
Tree disease treatment to prevent further decay and promote healing
Protection from Emerald Ash Borers, Lilac Ash Borers, and other invasive insects
Shrub care for healthy and thriving plant growth
Plus, much more!
Our team of expert tree and shrub care specialists are committed to providing 100% guaranteed satisfaction with every service we offer. From initial assessment to ongoing maintenance, our arborists are passionate about delivering exceptional results that will enhance your landscape and exceed your expectations. Don't trust your trees and shrubs to just anyone- call American Turf and Tree Care for reliable tree and shrub fertilizer service, ornamental insect control, and protection against disease. Discover the difference that comes from working with a true arborist
Image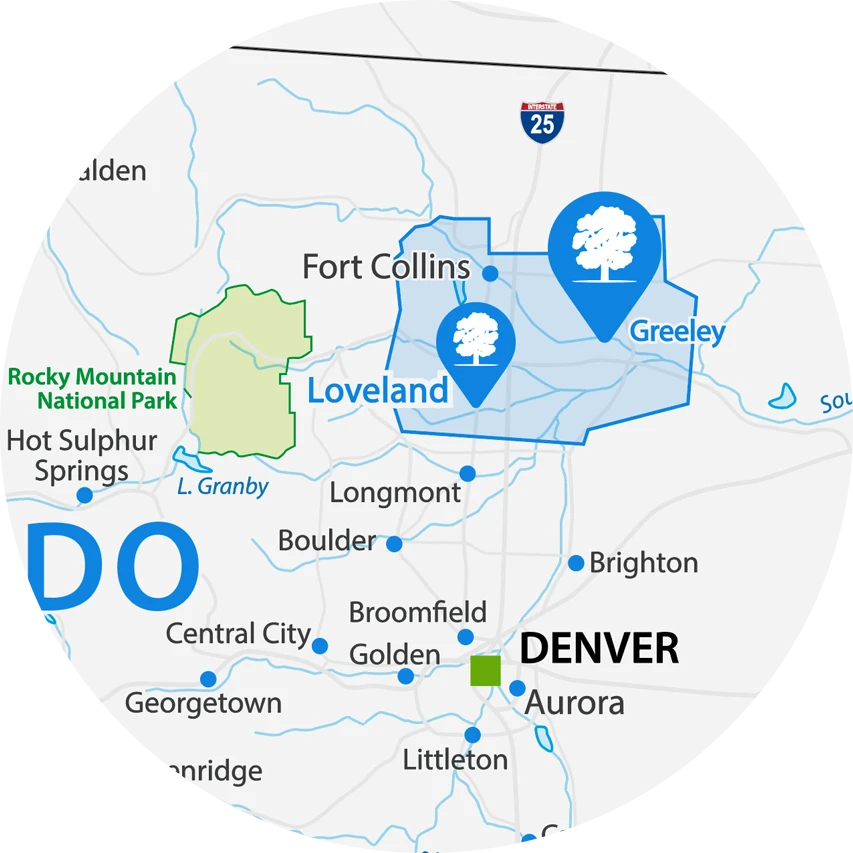 Emerald Ash Borer Treatment in Greeley
An important part of ensuring your tree's health is protecting it from dangerous pests, like the Emerald Ash Borers. These shiny green beetles are not only invasive but have the ability to cause intense damage to your trees, eventually causing them to die entirely.
At American Turf & Tree Care, our Emerald Ash Borer treatment focuses on combating and preventing these dangerous beetles. We use only the most powerful and effective methods that ensure protection for up to two years. When our exterminators visit your home, we'll conduct a thorough inspection, and determine the best course of action for your unique situation.
Contact Us To Schedule Your Emerald Ash Borer Inspection
How To Recognize Signs of An Emerald Ash Borer Infestation
If you aren't sure whether or not you've become a victim of an EAB infestation, be sure to look out for these signs:
Yellowing leaves

Canopy thinning

Bark loss

Sprouts from the trunk of the tree

S-shaped galleries under the bark

D-shaped exit holes in the bark
Read our blog to learn more about EAB damage and treatment options.
Tree Care in Greeley
Transform your landscape with our comprehensive tree care service in Greeley. Trust our expert tree arborists to provide customized care that meets your specific needs year-round. With free quotes and a 100% satisfaction guarantee, our team is passionate about delivering the best treatments using the latest eco-friendly practices. Our services include:
Comprehensive tree inspections to identify potential threats and ensure optimal health for your ornamentals.
Customized treatments tailored to your unique landscape needs, including tree disease treatment and iron chlorosis prevention.
Seasonal tree fertilization programs provide the nutrients your trees need to thrive in every season.
Winter watering services to keep your trees properly hydrated and prevent winter damage.
Tree injections to protect your trees against elements that can spoil a beautiful landscape.
Eco-friendly fruit sprays to keep your trees and shrubs healthy and productive.
Protection from Emerald Ash Borers to ensure your trees are safe from infestation.
Invest in your landscape with our tree care service in Greeley. Contact us today for your free quote and take the first step towards a healthier, more beautiful outdoor environment.
Shrub Care in Greeley
Transform your landscape with our top-tier eco-friendly shrub care service in Greeley. Our certified shrub arborist has over 41 years of extensive experience in shrubbery care.
Let us help you maintain the health and beauty of your shrubs all year round. Here are some features of our comprehensive shrub care services:
Comprehensive inspections by a certified arborist to diagnose any disease or insect issues and recommend treatment.
Seasonal shrub fertilization to address pH imbalances and iron deficiencies in your soil, giving your shrubs the foundation they need to be healthy at each point in the season.
Winter shrub care, including winter watering for Evergreen shrubs
Treatment for common shrub diseases such as boxwood blight and fire blight
Free quote and consultation for our services
Don't let your shrubs struggle in the Colorado climate, because they will! Trust us to provide the highest quality shrub care service in Greeley.
Reliable Turf & Tree Care Since 1982
Whether you're on the hunt for lawn care, tree care, weed control, or mosquito control, American Turf & Tree Care has a treatment that is perfect for you. We focus on providing the customer with the best possible option, with the utmost transparency. At the end of the day, our mission is to deliver exceptional results and give our customers the high-quality experience they deserve without compromising efficiency. If you seek great value for your investment, you won't want to look any further.
Our Guarantee
Should your issues persist in between scheduled treatments, simply let us know and we'll re-service your home for no additional cost to you. That's our guarantee to you!
Image