What kind of problem are you having? Select all that apply.
Tree Care in Greeley
Manicured trees and shrubs are the foundation of a stunning home. Our tree care experts begin by inspecting your yard to identify any potential issues. Then we develop a customized tree care program that addresses those threats over the long term. Our professional tree care includes:
Seasonal tree fertilization
Dormant oil
Tree disease protection, including Iron Chlorosis
Insect control, including Emerald Ash Borer protection
Fruit sprays
Recurring Treatments for Lasting Protection
For tree care to be effective, it must address the unique needs of the local landscape. At American Turf & Tree Care, our tree care includes regularly scheduled applications designed to prevent the majority of local obstacles—like insect damage and disease. We can intervene quickly, providing fast treatment solutions. 
One-Stop-Shop
Whether your trees need fertilization, your lawn needs to be aerated, or your backyard needs to be freed of mosquitoes, American Turf & Tree Care has the experience, expertise, and equipment for the job. Our trusted experts will keep your landscape thriving and healthy throughout the year, allowing you more time to enjoy your beautiful outdoor space!
To hear some first-hand accounts of our services, check out our reviews of our tree care in Greeley.
Image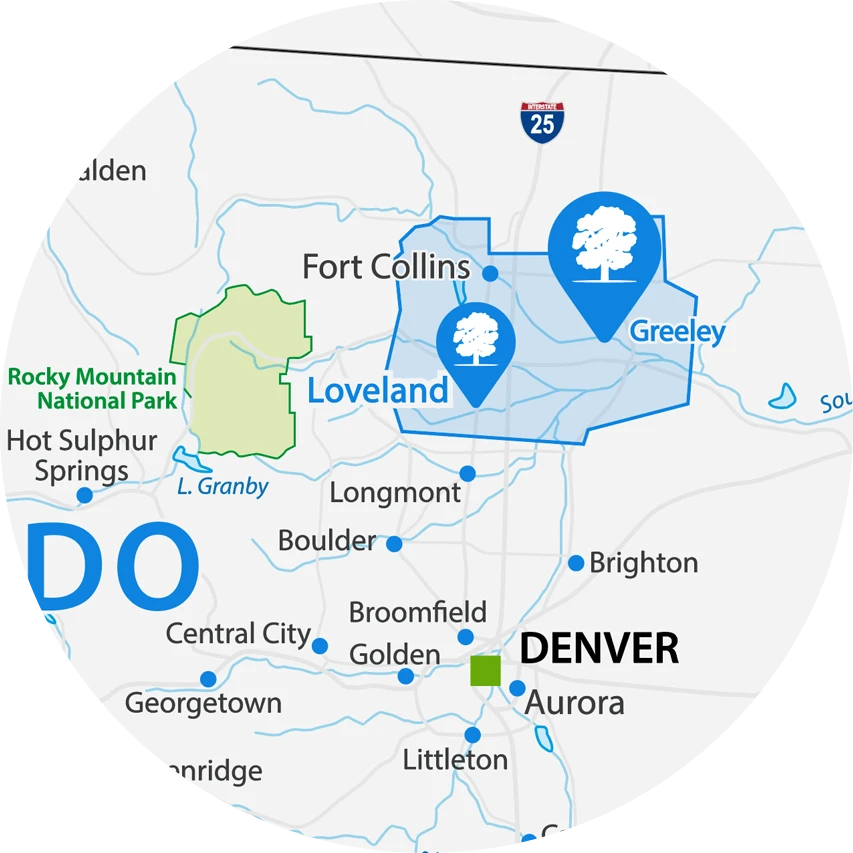 Emerald Ash Borer Treatment in Greeley
An important part of ensuring your tree's health is protecting it from dangerous pests, like the Emerald Ash Borers. These shiny green beetles are not only invasive but have the ability to cause intense damage to your trees, eventually causing them to die entirely.
At American Turf & Tree Care, our Emerald Ash Borer treatment focuses on combating and preventing these dangerous beetles. We use only the most powerful and effective methods that ensure protection for up to two years. When our exterminators visit your home, we'll conduct a thorough inspection, and determine the best course of action for your unique situation.
Contact Us To Schedule Your Emerald Ash Borer Inspection
How To Recognize Signs of An Emerald Ash Borer Infestation
If you aren't sure whether or not you've become a victim of an EAB infestation, be sure to look out for these signs:
Yellowing leaves

Canopy thinning

Bark loss

Sprouts from the trunk of the tree

S-shaped galleries under the bark

D-shaped exit holes in the bark
Read our blog to learn more about EAB damage and treatment options.
Reliable Turf & Tree Care Since 1982
Whether you're on the hunt for lawn care, tree care, weed control, or mosquito control, American Turf & Tree Care has a treatment that is perfect for you. We focus on providing the customer with the best possible option, with the utmost transparency. At the end of the day, our mission is to deliver exceptional results and give our customers the high-quality experience they deserve without compromising efficiency. If you seek great value for your investment, you won't want to look any further.
Our Guarantee
Should your issues persist in between scheduled treatments, simply let us know and we'll re-service your home for no additional cost to you. That's our guarantee to you!
Image