What kind of problem are you having? Select all that apply.
Tree and Shrub Care
Local Arborist in Severance
Your landscape in Severance, Colorado is in good hands with American Turf and Tree Care, your certified tree and shrub arborist. Our team of experienced tree and shrub specialists provides comprehensive tree and shrub care services, including:
Seasonal fertilization to keep your trees and shrubs healthy year-round
Tree injections to protect against damaging pests and diseases
Fruit sprays to ensure healthy fruit production
Tree disease treatment to combat harmful pathogens
Protection from invasive Emerald Ash Borers
Shrub care to keep your ornamental plants thriving
With 41+ years of experience, American Turf and Tree Care of Greeley delivers quality results backed by a 100% guarantee. Our tree and shrub arborists are also experts in ornamental insect control, so you can trust us to keep your landscape healthy and beautiful. Don't let tree and shrub care be a source of frustration. Let us take care of it for you. Contact us today and experience the difference of a true arborist.
Image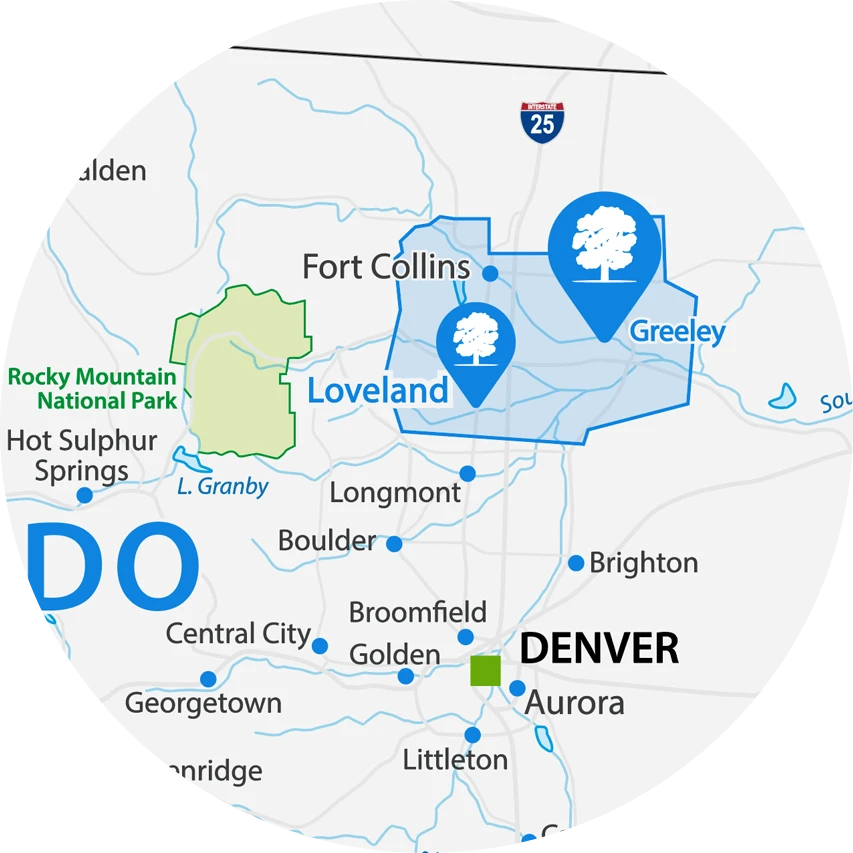 Tree Care in Severance
Transform your ornamental trees into a flourishing wonderland with our expert tree care service in Severance. Our certified tree arborists will give your trees the customized treatments they need to thrive year-round. Experience the benefits of:
Comprehensive tree inspections to identify potential issues before they become problems
Customized treatments tailored to your specific tree and soil needs
Seasonal tree fertilization to promote healthy growth
Winter watering to ensure proper moisture levels during harsh conditions
Tree injections to protect against diseases and pests
Eco-friendly fruit sprays to protect your trees and the environment
Effective tree disease treatment to restore health and vitality
Protection from Emerald Ash Borers to keep your trees strong and pest-free
Say goodbye to the damage caused by ugly tree diseases like iron chlorosis! Get a free quote now and let us help you transform your ornamental trees into the highlight of your landscape.
Shrub Care in Severance
Make sure your landscapes stay healthy year-round with our shrub care service in Severance. Our experienced shrub arborists are trained to diagnose and treat a variety of shrub diseases, including boxwood blight and fire blight. Here's what else we offer:
Comprehensive inspections: Our certified arborists will examine your shrubbery care needs to ensure your shrubs stay healthy and beautiful.
Seasonal Shrub Fertilizer: Our eco-friendly fertilizers provide the necessary nutrients for optimal shrub growth.
Winter Shrub Care: We also offer winter watering for evergreen shrubs to keep them hydrated during the colder months.
Treat Boxwood and Fire Blight: Our experts will diagnose and treat any shrub diseases to keep your shrubs looking lush and thriving.
Get a free quote today and experience the benefits of our comprehensive shrub care service in Severance. Let us help you create a landscape you can be proud of.