What kind of problem are you having? Select all that apply.
Lawn Care in Loveland, CO
Our team of experienced technicians here at American Turf & Tree Care has been providing superior lawn care in Loveland since 1982. We know that each property requires individualized treatment to look its best, while also addressing the particular threats facing it during the year. Our 5-star lawn care program is proven to healthy results for your landscape.
Organic Lawn Care Options
Wouldn't it be great if you could have thick, lush grass without all of the herbicides and pesticides that can endanger the health and safety fo your children and pets? You can! We are proud to offer our Organic Nutrition option, which:
Includes microbes and disease-fighting fungi
Improves the health of your soil
Strength of your grass' roots
Plus, you won't have to water and mow as often because your grass will enjoy enhanced root growth to better utilize nutrients and moisture!
Image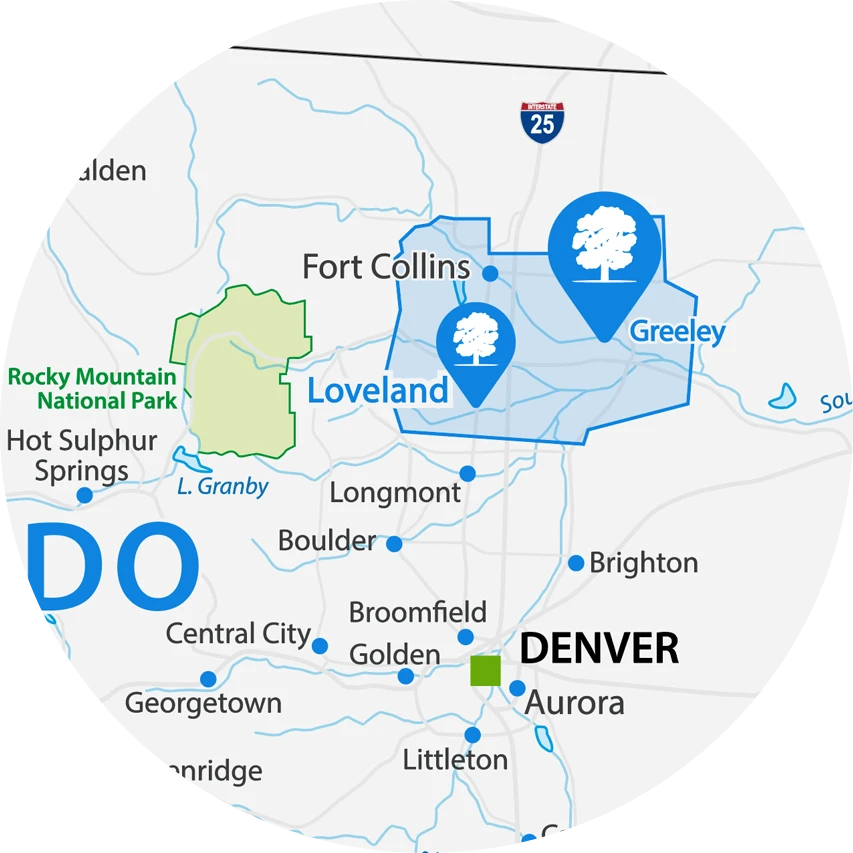 Recurring Lawn Service for Effective Results
Your yard is one of the first aspects of your home people see when—so when your grass won't grow or there are bald patches everywhere, it's time to call the professionals. When you partner with us for your lawn care in Eaton, we'll service your yard every 4-6 weeks from April to October with the five applications necessary to flourish in all types of weather. 
With our lawn care program, you can expect:
A custom-blended slow-release fertilizer to bring your grass nutrients.
Pre-emergent and post-emergent weed control, depending on the time of year.
Insect control and anti-desiccant spray to protect from grass-damaging bugs.
Organic soil conditioner to treat lawn disease and prevent drought.
And more!
You'll Love The Results—Guaranteed!
For over 40 years, our landscape service treatments have defended yards against weather-related damage from extreme temperatures in the winter and summer months. With a 100% satisfaction guarantee, you know that you can trust our professional lawn care team from Greeley to handle all of your lawn care needs—otherwise, we'll be back at your home to re-treat at no additional cost!
Weed Control in Loveland
Weeds love to take over your turf, driveway, flower beds, and garden—fortunately, our technicians love to help your yard become as weed-free as possible. American Turf & Tree Care has over 40 years of experience in the lawn care industry, meaning that our weed control is proven to give you the results you want. What's even better, our weed spraying is completely family-friendly!
Weed Removal Begins in Winter
While you may associate weeds with spring and summertime, the best time to worry about weeds is in the winter—it's actually best to apply pre-emergent weed control between the months of January and February. When post-emergent weed control is applied later in the season, results aren't as effective when compared to the pre-emergent treatment. 
When you schedule your winter pre-emergent weed control, you can expect protection from the toughest weeds in Colorado, such as:
Grassy weeds, such as crabgrass and yellow foxtail.
Broadleaf weeds, such as dandelions and thistles.
Warm-season weeds.
Cool-season weeds, including spring and fall.
Annual weeds.
Perennial weeds.
And more!
Liquid Aeration in Loveland
To get a stunning turf, it takes more than just mowing and watering. If you want a yard that turns heads, consider getting liquid aeration this fall! We use the process of liquid aeration to revitalize a tired turf and help crucial water, air, and nutrients get down to your grass' roots, helping fortify it from the inside out. If you want to learn more about how liquid aeration can strengthen your grass for the winter, call us today!
Reap the Benefits of Liquid Aeration
While some lawn care companies still offer core aeration, American Turf is proud to offer liquid aeration services. Some benefits of our liquid aeration include:
No sprinkler damage
Stronger roots and brighter turf
Reduction of brown patches
The opportunity to fertilize at the same time
A healthier lawn inside and out
And more
The Best Lawn Care in Loveland
When you choose American Turf & Tree Care to take care of your lawn care, you are choosing highly trained experts who will treat your family like their own. Not only will they take care of your turf and landscape, but allow you to enjoy your yard mosquito-free. Our state-of-the-art methods and exceptional customer service will ensure that you remain a customer for life.
Our Guarantee
Should your issues persist in between scheduled treatments, simply let us know and we'll re-service your home for no additional cost to you. That's our guarantee to you!
Image